News
Tint World Announces Partnership with Antimicrobial Application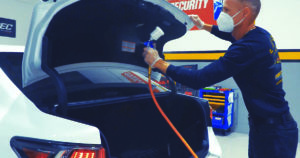 Tint World Automotive Styling Centers, an automotive styling and window tinting franchise, has entered a partnership with BioPledge to offer its EPA-registered, hospital-grade, AntiMicrobial Protection (AMP), the company announced.
The partnership is part of Tint World's ongoing commitment to helping vehicle owners stay safe and healthy during the COVID-19 crisis, the company said.
"BioPledge is an industry-leading disinfectant for treating microbes that can build up on high-touch surfaces inside vehicles, boats, homes and offices," said Charles J. Bonfiglio, CEO and president of Tint World. "Our customers are looking for the additional level of security that BioPledge delivers right now, and during this challenging situation we're doing everything we can to enhance their safety."
BioPledge is EPA-Registered, offering Anti-Microbial Protection (AMP) that instantly kills viruses, bacteria, mold, mildew, algae and yeast – all without the use of caustic chemicals or scented masking agents. A one-time treatment of BioPledge AMP forms a protective shield that delays the growth of harmful microbes on interior surfaces and prevents odors for up to 30 days after it is applied. BioPledge AMP treatments also remove organic and inorganic odors from air, carpet, upholstery, and other "high-touch" surfaces.
"With this partnership, Tint World customers will have the number one option for preventing germs and microbes in their vehicles, which is a critical service and one that's top of mind for most people right now," said Alex Baranga, president of BioPledge. "Tint World's success is built on providing the highest-quality products and services that are available, and BioPledge is looking forward to being part of that mission."