News
Three HROT Teams Emerge at Summit Piston Powered Auto-Rama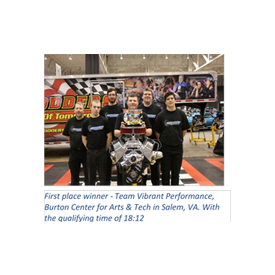 Three teams qualified for the Dual National Championship during the Hot Rodders of Tomorrow (HROT) Engine Challenge's third event of the season. The event was held at the Summit Piston Powered AutoRama in Cleveland, Ohio, March 16-18. Eight teams from three states competed to qualify for the Dual National Championship set for the SEMA and PRI shows later this year.
Coming in at fifth place was team Mr. Gasket of C D Hylton High School from Woodbridge, Virginia with a run time of 30:31; In second place was Team Remflex of Franklin County Career & Technology Center in Chambersburg, Pennsylvania with a time of 21:02; and the first-place team over-all was team Vibrant Performance of Burton Center for Arts & Tech in Salem, Virginia with a time of 18:12.
To qualify for the Dual National Championship, a team must finish disassembling and reassembling a small-block Chevrolet engine in less than 33 minutes, including penalties.
"This is a great program to get kids involved in the automotive aftermarket. A very cool hands-on experience," said Jeff Lutz, a street legal drag racer who was on-hand to meet fans and sign autographs.
The show also included a competition at the IX Center for Junior Engines' second year. The competition involves individuals or teams comprised of two individuals with one team member being five to 18 years of age. The teams must completely disassemble and reassemble a complete single cylinder OHV engine, utilizing only basic hand tools. According to the group, one of the goals of this contest is to help individuals develop great communication skills and self-esteem.
For additional information on starting a team or sponsorship opportunities, contact Rodney Bingham at RBingham@hotroddersoftomorrow.com or call 815-722-5460.