News
Three Generations of the Alves Family Represent SCOSCHE Industries at SEMA Show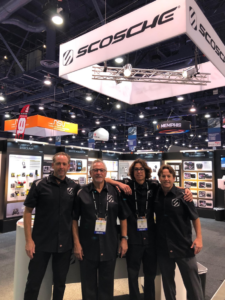 Three generations of the Alves family represented their company, Scosche Industries, at the SEMA and AAPEX shows last week in Las Vegas. It was the 23rd year that Scosche exhibited at the SEMA Show.
Roger Alves and his wife Scotia started the company in their garage in 1980. From the beginning they were innovators in the field of car audio and were granted their first dash kit patent in 1984, according to the company.
Roger and Scotia's sons Kas and Vince joined the company in 1995 and 2000, respectively, and now serve as executive vice presidents. Most recently, grandson Ryder joined the family business this year as a marketing specialist and video editor.
"We've seen a lot of change in the industry over the years. For instance our original dash kits were priced around $5," said Roger Alves, co-founder and CEO of Scosche Industries. "Now we offer integrated solutions kits for today's highly sophisticated vehicles that run upwards to around $500.The future for the automotive industry is wide open, and I look forward to seeing my grandson Ryder developing products for autonomous vehicles. It gives me great pleasure to see the boys doing such a wonderful job of running the company as we approach our 40th year in business."