News
Thermo-Tec Signs on as Sponsor for Hoonigan Shows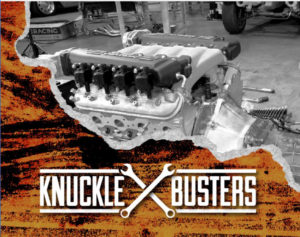 Heat shield and sound insulation product developer Thermo-Tec is partnering with Hoonigan on two of its programs: Season two of the build show Knuckle Busters, and season two of the head-to-head contest Build & Battle.
"We are stoked to link up with our friends at Thermo-Tec and their complete lineup of heat shield and thermo insulation products," said Andy Dellenbach, chief revenue officer/head of partnerships at Hoonigan. "Our builds are hardcore, and our never-lift driving style is even less forgiving, which is exactly why we rely on all of Thermo-Tec's product lines, from heat barriers, sleeving for wiring and tubing, tape and rollers and exhaust wraps, to coatings and adhesives."
Season two of Knuckle Busters will focus on a Duramax diesel conversion of a fifth-generation Chevrolet Camaro. Requiring a retrofit of the engine bay, the goal is to hit 200 mph in the standing mile.
As the exclusive heat insulation category manufacturer, Thermo-Tec will provide products to manage heat during extended run times including exhaust wrap, heat shields, wiring wrap and covers for the Duramax's twin turbos.
Thermo-Tec is also a team sponsor for season two of the popular program Build & Battle. Two influencers from a specific racing genre (drag, off-road, Time Attack, drift, etc.) square off to see who can build the fastest machine in their specific category for less than $10,000 in a limited amount of time.
Thermo-Tec is sponsoring one of the drag battle teams in the current season, which has three more weeks of programming left to air. New episodes are released on Thursdays at 8 a.m. PST on Hoonigan's Project Cars channel on YouTube.
"It is an incredible opportunity to work with everyone at Hoonigan," Jeremy White of Thermo Tec said. "I personally have followed Hoonigan since Gymkhana 1 and all the wild builds, events, content since so when the opportunity to work along side them came about it was a very easy decision. We know that our heat and sound control products are the best on the market and Hoonigan is a world class company so this partnership makes perfect sense. Hoonigan creates amazing vehicles, content and automotive ideas and we create a solution to all heat or sound issues. We are very excited to see what they come up with next and to build our relationship with them."