News
Thermo-Tec Has Diesel Competitors Covered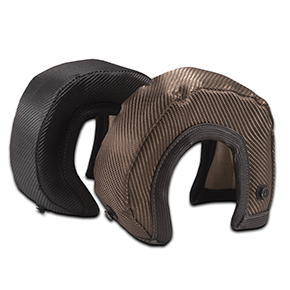 Thermo-Tec will serve as the official 2018 turbo cover sponsor of DIESEL Motorsports. The company is marking the occasion with a new series of basalt heat insulating wraps and covers under the Rogue Performance Products brand name.
The Rogue series features a basalt construction that will not fade with abrasions or liquid spills, according to the company. Constructed of 100-percent continuous-filament, basalt products also show strong immunity to chemical spills and UV light. Basalt fiber, made from basalt rock, is able to withstand temperatures up to 1,800-degrees Fahrenheit.
Rogue Performance Products' turbo covers feature a dual-layer construction that increases performance and durability, while reducing under-hood temperatures by keeping heat inside the turbo, according to Thermo-Tec.
Thermo-Tec turbo covers reduce turbo lag and offer an easy-fit design for T3-T4 and T5-T6 turbines found in competitive diesel drag racing and sled-pulling machines, according to the company. Kits include grommets and wiring for easy installation.
"Thermo-Tec Turbo Covers fit our diesel enthusiast base perfectly, and will result in better performance, plus safety for the sport," said Ron Knoch, president of DIESEL Motorsports. "It is always good to see innovative products for our diesel pickup trucks-especially those made in the USA."
"We are thrilled to be partnering with Ron and the fine folks at DIESEL Motorsports. We appreciate the opportunity to bring our turbo covers and other thermal insulation products to racers and fans at the grassroots level," said Nick Helms of Thermo-Tec. "The racing environment is the ultimate proving ground for our products, and we look forward to outfitting the fastest diesel trucks and strongest sled-pullers in the country with the new Rogue Series line of basalt products."
Visit thermotec.com for more information.