News
Therapy Vehicles Stolen from Austin Hatcher Foundation Recovered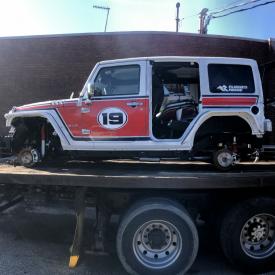 After two weeks of heartbreak and dealing with the devastating theft of two vehicles that were built by childhood cancer patients, survivors and their families, the Tennessee-based Austin Hatcher Foundation for Pediatric Cancer finally has closure. The 2018 Jeep Wrangler and 2018 Ford Explorer Sport were located by Chattanooga Police near Rossville Boulevard on Nov. 5. These vehicles, modified extensively as part of the foundation's STEM-based therapy and recovery program, were stripped of all valuables, totaled and hidden in a wooded area. It is not clear at this time how long they were hidden.
Previous: Fundraising Vehicles Stolen from Austin Hatcher Foundation
Chattanooga Police have made one arrest in the case. Police know at least two others were involved in the theft, but authorities have not yet located these individuals.
Thanks to a donation from the Mauzy family of Midland, Texas, the foundation received the funds necessary to begin another automotive build, the 2020 Gladiator Rubicon IASO. This project will replace the Jeep and Ford that were scheduled to be consigned to be auctioned at the Leake Auto Auction on Jan. 18, 2020 in Scottsdale, Arizona. Work on the project began last week, with pediatric cancer patients and their families stepping up to help complete the vehicle in time for the auction.
The Austin Hatcher Foundation is a SEMA Cares Charity and introduced the design concept for the 2020 Gladiator Rubicon IASO at the 2019 SEMA Show in Las Vegas. The vehicle is named after Iaso, the Greek goddess of cures, remedies and modes of healing and takes styling cues from Parnell Jones's 1971 and 1972 Baja 1000-winning Ford Bronco known as "Big Oly."
Financial and product support for the 2020 Gladiator Rubicon IASO include Rugged Ridge/OMIX-ADA, Inc., Magnuson Superchargers, Wastegate Technologies Inc, BFGoodrich, Fully Loaded Interiors, JKS Manufacturing, Top Notch Customs, BDS Suspensions, ikonGPS and Mountain View Automotive Group.
Contributions to the IASO project can be made at www.gofundme.com/ahfcars, and interested vendors may contact Austin Hatcher Foundation Director of Industrial Arts Jonathan Myren via email at jonathan@hatcherfoundation.org or by calling (423) 243-3471