News
TheCarGuy and The Humble Mechanic to Support MAHLE Service Solutions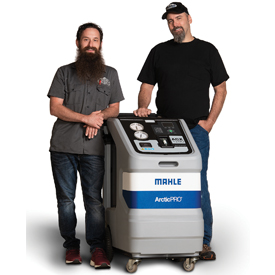 MAHLE Service Solutions will soon begin working with auto experts Eric "TheCarGuy" Cook and Charles Sanville, better known as The Humble Mechanic.
Cook and Sanville will be formally introduced as MAHLE Service Solutions ambassadors at the Oct. 30-Nov. 1 AAPEX show in Las Vegas. They will also demonstrate products and participate in events on behalf of the brand. Throughout the year, the pair also will represent the division's shop equipment to the automotive aftermarket.
Cook, known for his expertise in auto repair and video production, started EricTheCarGuy in 2009 with the intent of helping do-it-yourself consumers solve auto repair issues through instructional videos. He has produced numerous videos on air conditioning recharge and fluid flushes. Cook has almost 1.3 million followers on various social media platforms, including YouTube, Facebook, Instagram and Twitter. Cook is a graduate of Rosedale Technical Institute and an ASE certified master technician in 2012 and 2016.
Sanville is a former technician who currently works full-time as a podcaster and YouTube host as the Humble Mechanic, which is a five-day per week video show. Topics on the show include how parts fail, tool and product reviews, understanding vehicle warranties, and how to become a better technician. Sanville is an ASE certified master technician with a passion for fixing cars, and helping people understand their cars.
Like Cook, Sanville has more than 375,000 social media followers through YouTube, Facebook, Instagram and Twitter. Sanville attended Universal Technical Institute in Glendale Heights, Illinois.
"Since the launch of our tool and equipment division nearly five years ago, we have worked hard to build brand recognition in the automotive aftermarket," said Rich Wolf, head of aftermarket for MAHLE Service Solutions. "Both Eric and Charles have loyal followings among millions of professional technicians and DIYers and we are pleased that they will serve as brand ambassadors for our shop equipment."
Visit servicesolutions.mahle.com for more information about MAHLE Aftermarket Service Solutions.