News
The Shyft Group to Showcase Portable Charging Station
The company will also introduce an electric commercial delivery van at the Detroit Auto Show 2022…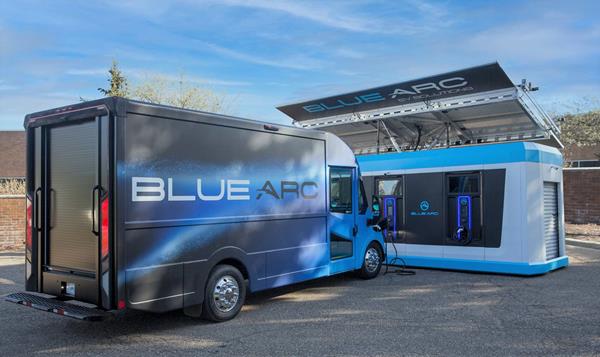 Blue Arc EV Solutions, a brand of The Shyft Group, will present the Power Cube portable charging station alongside its Class 3 all-electric commercial delivery van at the North American International Auto Show in Detroit on Sept. 14-15 as part of the event's Industry Days and AutoMobili-D exhibit located on the main floor of the show.
The Power Cube—a fully portable, remote-controlled charging station—made its debut in Washington, D.C. in July, sparking interest from customers, government officials and media amid the country's renewed focus on EVs and the transition to cleaner energy, the company notes.
Meanwhile, the Blue Arc delivery van built on Shyft's commercial-grade EV chassis, was unveiled in March at NTEA's Work Truck Week. Created with driver comfort and productivity in mind, it's designed to be easy to drive and simplify entering and exiting for last-mile deliveries with multi-stop routes.
Blue Arc's electric vehicles integrate the latest in vehicle and driver safety technology including 360-degreecameras, large in-dash HD camera displays, lane departure and proximity sensors, and keyless and automated entry.
With a high degree of configurability, the all-electric chassis is adaptable to last-mile delivery, work truck, mass transit, recreational vehicle and other emerging EV markets.
"Our deep commercial fleet experience and new Blue Arc EV Solutions brand present an opportunity to address infrastructure concerns and help drive a swift and comprehensive transition to clean energy," says Daryl Adams, president and CEO, The Shyft Group. "The Power Cube is the only commercial-grade, remote controlled portable charging solution today and the possibilities for use are virtually endless."
Without requiring any digging and trenching or costly infrastructure changes, the Power Cube is ideal for applications beyond the commercial vehicle sector, the company notes, including mass transit and school buses, campgrounds and national parks, construction sites, and outdoor events like sports or concerts.