News
THE SHOP Welcomes Stacy Marshall as Publisher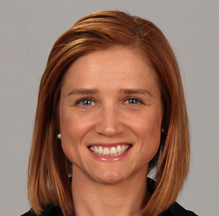 THE SHOP announces Stacy Marshall as its new publisher. Marshall takes over for former publisher Regan Dickinson, who was recently promoted to director of content for THE SHOP's parent company, National Business Media (NBM).
Previously publisher of Printwear magazine, Marshall brings more than 13 years of media consulting and publishing experience to the team.
"This is right up my alley and I couldn't be happier with the team that's in place at THE SHOP," says Marshall.
Marshall adds that she became an automotive aftermarket aficionado when she met her husband, Aaron Marshall, 15 years ago. Aaron owns Berg Performance, established in 2011, which is an Audi/Volkswagen/Porsche specialty shop based in Denver. "We're also big fans of off-roading and snow driving," says Marshall.
"Stacy is an outstanding addition to THE SHOP whom I know from working with her in the past will not only continue to deliver a high-quality product, but will elevate it going forward," says Dickinson. "I will still be very much involved with THE SHOP's editorial team. All of us will work together to help our readers and partners navigate the changes facing the industry, and build stronger, more profitable businesses for the future."
The news comes as NBM gears up for the new decade with top-level changes. In August 2019, founder and CEO Bob Wieber named Dave Pomeroy as president. Pomeroy took the helm as president after a 25-year career with NBM serving various roles, most recently as VP of publishing.
NBM will also launch a new publication, entitled GRAPHICS PRO, this spring. The forthcoming publication merges A&E, Printwear, and Sign & Digital Graphics into a single, comprehensive super-publication. NBM also publishes the number-one source for RV professionals, RV PRO.