News
'The D Lot' Returns to Detroit Autorama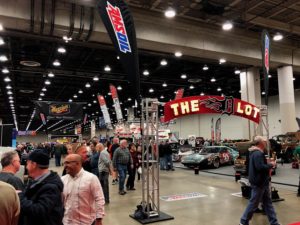 It's that time of year. Midwest roads are bleached white with salt, below-freezing temps are a stark reminder that you should have had that faulty seat heater looked at last summer and car-covered classics throughout the area hibernate like the bears in Yellowstone.
Well, most of them, anyway. A few hundred are pulled from their winter repose for the Detroit Autorama, and this year's event – happening Feb. 28-March 1 – will be the eighth to host the specialty product showcase known as The D Lot.
Developed and hosted by Pfaff Designs, the D Lot is a showcase for cars and new products, all while supporting a charitable cause. Over the years, the D Lot has raised more than $50,000 for charities, while giving away more than $160,000 in prizes. Make-A-Wish Michigan is the charity this year and Murray Pfaff, of Pfaff Designs, hopes to raise over $15,000 for the cause.
"For children with critical illness, Make-A-Wish Michigan makes a tough time for families more bearable," says Pfaff. "And if the previous generosity of D Lot visitors is an indicator, Detroit's car community will help make a lot of dreams come true."
The money is raised through 'Pick-A-Prize' raffles held in The D Lot's pavilion within the Detroit Autorama's main-floor show space. More than $40,000 worth of merchandise is expected to be offered this year, with tickets selling for $5.
The D Lot will also include a number of cars, all designed by Pfaff, including the debut of the 'Outkast' Jeep Gladiator from Szott Auto, Viv Agresti's highly customized 1959 Corvette, built by Toronto-based Fast Company, Marc Austin's 1964 Chevy pickup, built by Pennsylvania's Creative Road & Custom, Dave Jolly's 1938 Lincoln Zephyr, which won Pfaff Designs' inaugural St. Ignace Cup at the St. Ignace event last summer and many more.
"When you come to the D Lot, you're going see great cars, meet great people and, for only a few dollars, get the chance to walk away with some terrific prizes – all while helping Make-A-Wish Michigan," says Pfaff. "The Detroit Autorama is a Michigan tradition and The D Lot is proud to be part of it."
For more information, click here.