News
Ted Vernon Makes a Celebrity Appearance at Events Across the South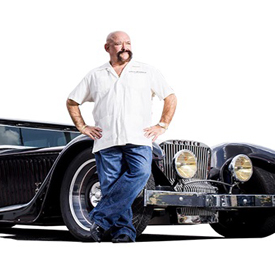 Ted Vernon of Ted Vernon Specialty Automobiles Inc. has begun his tour of several of the largest annual car corrals of the South. This weekend he's in Moultrie, Georgia, and then travels to Daytona Beach, Florida on Nov. 21-25. The Daytona show will include its famous Turkey Rod Run.
The shows will feature some of the country's finest vintage classic and muscle cars, as well as both mild to wild resto-mods, according to organizers. Show guests will get the opportunity to say hello to Vernon, who will act as a celebrity guest for each event.
The 45th Annual Daytona Turkey Run is a family event that is held on the infield of the Daytona International Speedway. This event offers over 5,000 collector cars that are on display and ready for sale or trade. The event also features a swap meet that includes collector car parts and memorabilia. Handmade crafts and fashion items can also be found at this event.
Vernon is an auto dealer, but also a film actor, producer, and profession prizefighter. His most noted credit is South Beach Classics, which aired on the Discovery Network. Vernon serves as an executive producer and occasionally makes appearances as a featured guest. He and his company are based out of Miami, Florida.
Vernon's well-known inventory includes a collection of antique, exotic, classic, muscle, and special interest investments from around the globe. The specialized niche of buying, selling, and trading the high-interest investments has made them one of the largest dealers in the region, but also granted them many connections around the world.
For additional information, call 305-754-2323 or visit info@tedvernon.com.