News
TechForce Announces New Roush Yates Engines Scholarships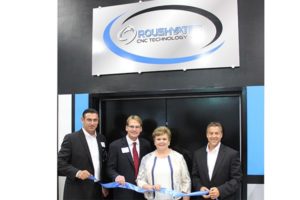 TechForce Foundation, a non-profit organization focused on championing and aiding aspiring vehicle technicians, is administering a scholarship program established by Roush Yates Engines to support students enrolled in the CNC (computerized numerical control) Machining Technology program at Universal Technical Institute's (UTI's) NASCAR Technical Institute in Mooresville, North Carolina.
Of the eight $4,000 CNC Machining scholarships to be administered, four will be named after Roush Yates Engines' co-founder Robert Yates, while the other four will be named after co-founder Jack Roush. Awarding of the scholarships will start in the fourth quarter of this year with the remainder being awarded in 2018 and 2019.
"We are elated to administer these scholarships-first, for such an innovative company as Roush Yates Engines, and second, for the specific need they address," said Jennifer Maher TechForce CEO and executive director. "Students will get the hands-on training a CNC machinist needs to create and engineer everything from aerospace parts and industrial applications to medical equipment and high-performance engine components."
Doug Yates, president and CEO of Roush Yates Engines, pointed out the importance of the scholarships.
"CNC machining is critical to the current and future success of Roush Yates Engines and manufacturing in the U.S. and beyond. By partnering with UTI we have created a platform for success in the CNC manufacturing industry," he said. "The Roush Yates Engines scholarships support our belief in the next generation of CNC manufacturers. The future is bright and we are 100-percent dedicated to this dynamic industry."
Kim McWaters, president and CEO of UTI, thanked the TechForce Foundation and Roush Yates Engines on behalf of student.
"At UTI, we're committed to student success, which is why we partnered with Roush Yates Engines to create the CNC Machining program. With these scholarships and the ongoing support of the Roush Yates Engines team, more students can access our training and the abundant career opportunities available for CNC machining technicians across multiple industries."
CNC students at NASCAR Tech can apply for the scholarships at www.techforcefoundation.org.