News
Team Shelby Participating in 'Relay for Life' Demolition Derby Fundraiser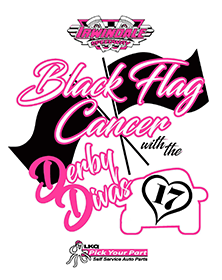 Team Shelby will join southern California's Black Flag Cancer Derby Divas for its third annual "Relay for Life" fundraiser at Irwindale Speedway on Oct. 9, the automotive club announced. Club members will drive survivors on the track during parade laps, donate money and then Team Shelby International Director Tracey Smith will drive in the demolition derby on the all-female team as part of a program associated with the American Cancer Society.
"Automotive legend Carroll Shelby was deeply committed to supporting charitable foundations and that is a cornerstone of the car club he founded," said Smith. "Robert Rice and Cheryl Hyland, who are very active in the Shelby community, have been competing in motorsports for many years. We were inspired by their success in using grassroots racing events to raise awareness and money for the battle against cancer. I'm excited to compete in my first demolition derby as one of the Black Flag Cancer Derby Divas. This weekend, Shelby's passion for motorsports and charity will collide at Irwindale Speedway in So Cal."
The Black Flag Cancer Derby Divas were founded in 2019 by Robert Rice and Cheryl Hyland. Rice also works at Carroll Shelby International in a variety of roles, where he channels his interest in motorsports and mechanics to support Team Shelby and Shelby American.
Donations will be accepted that evening while cancer survivors and fighters enjoy parade laps in high-performance vehicles just before evening events begin. Proceeds will benefit the local "Relay for Life" team that supports the American Cancer Society.
The leader of the Black Flag Cancer Derby Divas, Hyland, is an accomplished and celebrated local driver, the organization said.
"The Irwindale Speedway is my 'happy place' and I'm involved with many charities that fundraise there throughout the year thanks to the generosity of Tim and Lisa Huddleston, who own the track," Hyland said. "Black Flag Derby Divas is our annual women's only Demo Derby event. This year, 13 incredible ladies will compete during an evening devoted to everyone who has fought or is fighting any form of cancer, along with their families and friends. We're thrilled Team Shelby will join us in this battle."
Those interested in volunteering to drive cancer survivors in their collector or high-performance car or supporting the race team can contact Cheryl Hyland.
Donations can be made here.
Information about the event is available here.