News
Team Custom Automotive Network Claims First Seed for HROT Championships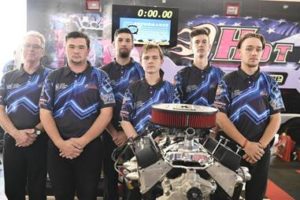 The first half of the Hot Rodders of Tomorrow Engine Challenge 2018 Dual Championship at the SEMA Show in Las Vegas included 27 teams coming from coast to coast to battle for four spots in the upcoming Elite 8 in the 2018 National Championship at the PRI Show. The HROT final event is set for Dec. 4-8 in Indianapolis.
With five students per team, they disassemble and reassemble a traditional small block Chevy outfitted with the latest aftermarket parts. Teams must properly disassemble the engine including the removal of all eight pistons, then reassemble it using correct torque and valve adjustment.
Team Custom Automotive Network (CAN) from Eastern Oklahoma Technology Center in Choctaw, Oklahoma, came in first place at the Dual Championship competition at the SEMA Show with an average time of 18:35. They also had the best time of the week at 17:59.
Team Racequip from Birdville Center of Technology and Advanced Learning had the best written test score of 97 percent. It was their first-year team at the Dual National Championship.
Other teams moving on to the Elite Eight competition at the PRI Show include:
Team Canton Racing Products from Lakeshore High School in Stevensville, Michigan, with an average time of 19:57.
Team Mr. Gasket form C D Hylton High School out of Woodbridge, Virginia, with average time of 22:42
Team Edelbrock from Hunter High School from West Valley City, Utah, with an average time of 23:57. This will be the team's first trip to the Elite Eight competition.
These top four teams from the SEMA Show will compete against the top four teams from the PRI Show,  competing head-to-head to earn the Hot Rodders of Tomorrow Dual Championship title, which includes scholarship vouchers ranging from $6,500 to $10,000 from Universal Technical Institute (UTI), School of Automotive Machinists (SAM TECH), and Ohio Technical College (OTC).
The Elite 8 battle will start at 1 p.m. EST on Dec. 7, and continue on Dec. 8.
Visit HotRoddersofTomorrow.com for more information.