News
Survey Finds Road Trips Have Been Among the Happiest Moments for Americans This Summer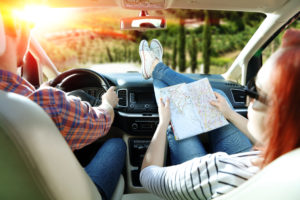 The challenges of quarantine and social distancing helped spur a resurgence in the American road trip, a new survey from Chevrolet and The Harris Poll shows. In fact, nearly 80 percent of Americans credited road trips as helping to keep their sanity during the pandemic.
In advance of Labor Day – typically one of the nation's busiest travel weekends – Chevrolet worked with The Harris Poll to survey over 1,000 Americans to discover exactly how they spent their time on the road over the past six months, and the effect it had.
A majority of Americans said their vehicles became a much-needed escape from home, with many exploring outdoor destinations like beaches and hiking trails. Nearly three-quarters of those surveyed said they value road trips more than they did before the pandemic, and 80 percent of road trippers said going on a road trip has been "one of their happiest moments" since March.
The circumstances throughout 2020 have driven Americans outdoors and to new destinations, many for the first time in their lives. The survey found 89 percent of Americans said their car allowed them to get out of the house safely for a much-needed change of scenery. Among road trippers:
Twenty percent visited a national park for the first time
More than 1 in 10 Americans went camping for the first time
Forty-one percent road-tripped to somewhere they've never been before
The top outdoor road trip activities include beaches (41 percent), hiking (31 percent), fishing (29 percent) and going to national parks (27 percent)
In addition to exploring new places, roughly 4 in 10 road trippers say that they now have a greater appreciation for the outdoors (43 percent) and for domestic travel (38 percent). And 56 percent said the vehicle has become "part of the family."
"The open roads are a welcome change, and for decades, many Americans have embraced the outdoors with the Tahoe and Suburban as the ultimate road trip vehicles," said Bob Krapes, Chevrolet Trucks marketing director. "This desire to pack up family and cargo and get out is part of these iconic SUVs' DNA. The all-new 2021 Tahoe and Suburban have been completely redesigned to offer more space, comfort and technology to make road trips enjoyable and memorable."
As Americans continue to explore new ways to spend time out of the home, the survey conducted by Chevrolet and The Harris Poll showed more road trip plans are still ahead. Of those planning to road trip through the end of the year, 41 percent plan to road trip over Thanksgiving or winter holidays.