News
Sunflare and OK4WD Ink Overland Solar Partnership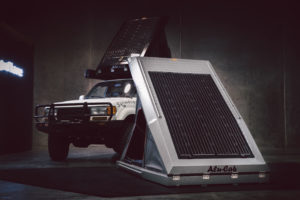 Sunflare has entered into a new partnership with OK4WD as its preferred solar distributor for overland vehicles.
OK4WD is a New Jersey-based shop offering off-road, 4×4, and performance truck and automotive products, service and installation.
"We are incredibly excited to be working with OK4WD not only because they offer great quality products and service, but also because we share the same values around sustainability," Philip Gao, CEO of Sunflare.
Sunflare works to expand the imagination of product manufacturers and aftermarket distributors who are looking to provide eco-friendly, durable products for outdoor adventurers, according ot the company. The Flex60 solar panel is light, thin, flexible and rugged and can be easily integrated into the roof of vehicles and camping equipment to provide power way off the grid.
OK4WD and Sunflare will be exhibiting during the May 17-19 Overland Expo West in Flagstaff, Arizona.
"The Sunflare Flex series of solar panels are a perfect solution for outfitting any expedition vehicle with reliable, rugged and sustainably produced off-grid power," said Rin Oostdyk, Sunflare brand manager for North America. "We now have custom-sized configurations perfectly suited for the Alu-Cab Expedition III roof top tent (180w) and Khaya and Canopy campers (252w), we can now offer our customers an integrated solution that not only looks great but has uncompromised performance."
Sunflare modules are more flexible than silicon-based solar panels, according to the company. That makes them easier to install and eliminates the micro-cracking that silicon cells experience after the flexing of sport and recreational driving.
They also are made for shade. Each cell has a bypass diode so that only the shaded cell turns off. Other panels are set in strings so that if one cell in a string is shaded, the whole string goes out. Depending where the shade is hitting, the whole panel can be knocked out.
OK4WD will carry three Flex sizes: 180 watts, 125 watts and 105 watts for aftermarket installation on of Roof Top tents, teardrop trailers and RVs. They will also carry panels at retail and online.