News
Study Shows Consumers Willing to Travel Longer Distances to Buy Cars During Pandemic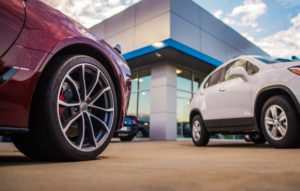 Consumers are willing to go the extra mile to get the cars they desire during the COVID-19 pandemic, according to Edmunds.
Edmunds data reveals that new vehicle inventory is down by nearly 20% compared to the same time last year and, as a result, car shoppers are expanding their online searches to include dealerships that are farther away. According to Edmunds website data, car shoppers indicated that they were willing to drive 47 miles on average for outgoing 2019 model year vehicles in January 2020. In January 2021, car shoppers indicated that they were willing to drive 65 miles on average for outgoing 2020 model year vehicles, nearly a 20-mile increase year over year.
"New car inventory was already tight due to coronavirus-related factory shutdowns from last year, and the current global chipset shortage has exacerbated the situation," said Jessica Caldwell, Edmunds' executive director of insights. "But car shoppers aren't being dissuaded by the lack of inventory. They're demonstrating that they're ready to literally go the distance to get their hearts' desire, even in the midst of a pandemic."
Edmunds analysts have created a "Most Desired Vehicles" barometer, which takes into account all car shopping leads submitted on Edmunds and identifies vehicles that car shoppers indicated they were willing to drive the farthest distance to obtain. The Mercedes-Benz G-Class clinched the No. 1 spot, commanding an average distance of 363 miles. The Toyota GR Supra came in second, with consumers indicating they'd be willing to drive an average of 167 miles. The Kia Stinger came in third, rating an average distance of 166 miles from willing car shoppers. The complete Top 25 list of Most Desired Vehicles can be found here.
"By looking at the vehicles that topped the list, it's clear that different motivations are pushing car shoppers to go long distance," said Caldwell. "Consumers with more eclectic or expensive tastes are going out of their way to get the cars that they want, but we're also seeing that consumers are willing to travel farther for more affordable, high-demand options as well."