News
Street Racing Legend is Subject of New Docu-Series Podcast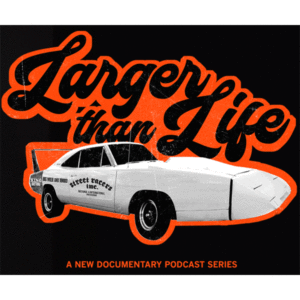 LA Times Studios just launched Larger Than Life, a docu-series about legendary Los Angeles street racer Big Willie Robinson. Reported and hosted by LA Times staff writer Daniel Miller, the seven-part podcast series tells the true story of a street racer who united Los Angeles-but left behind a tangle of questions.
1960s Los Angeles
In 1960s Los Angeles, after the catastrophic Watts Riots, a legendary character emerged-one who found an unexpected way to bring people together, across race and class. Big Willie, a 6-foot-6, muscle-bound gearhead, used street racing to heal a city torn apart by violence. Cops and criminals, movie stars and miscreants, even Crips and Bloods-out at the drag strip, Big Willie could get them all to see eye to eye.
His street diplomacy eased racial tensions and united L.A. But what caused Big Willie to fade into obscurity? Exploring the life and legacy of L.A.'s King of the Street, the series shares never-before-revealed details uncovered through Miller's investigative work, as well as personal stories from Willie's inner circle, including members of the International Brotherhood of Street Racers.
The first two episodes are available now, everywhere podcasts are available, including through Apple, and Stitcher. New episodes will debut each week.
Listeners can also discover bonus content for each episode on latimes.com, including exclusive footage, images and more. An essay about the project by Daniel Miller will be available in the Sunday edition of the newspaper on July 14.