News
Strange Engineering Renews Marketing Partnership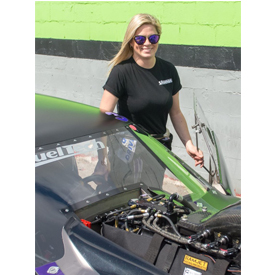 Melanie Salemi Motorsports (MSM) has renewed its marketing partnership with Strange Engineering, based in Morton Grove, Illinois.
For the 2018 race season Melanie Salemi's Purple Reign 1968 Firebird will again showcase the iconic Strange Engineering logo across its doors. MSM and Strange put the final touches on their 2018 partnership at the Performance Racing Industry trade show in Indianapolis, Indiana in December.
"Strange is just one of those companies that is great to be involved with. We not only use Strange Engineering products on my Pro Mod but we sell their products through our business which has built a great friendship over the years," Melanie Salemi said. "We have been providing direct feedback from our car with on track experience with Jeff and J.C. They really are first class people to deal with. It's great to be able to provide raw data and product feedback directly to Strange."
In 2017 Salemi and her team placed third in the PDRA Pro Boost Class for the second consecutive year and have high expectations for this season.
"We enjoy working with the Salemi's and having our brand being recognized on a prominent competitor's vehicle, we are looking forward to being able to have even more exposure in 2018 as Melanie will race the entire NHRA E3 Sparkplugs Pro Mod schedule," said J.C. Cascio of Strange Engineering.
MSM is based in Buffalo, New York. Salemi and her team will be taking their '68 Firebird to compete within the Ultra competitive NHRA E3 Sparkplugs ¼ mile Pro Mod class for the 2018 season.