News
Stevens-Miller Racing's Prefix Partnership Starts in Winner's Circle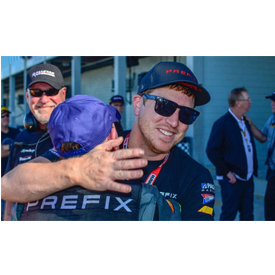 Stevens-Miller Racing has a new partnership with Prefix Corp. The company signed on as the race team's official engine supplier for its fleet of HEMI-powered Dodge Challenger Trans-Am race cars for this season.
The partnership got off to a tremendous start last weekend with driver Marc Miller winning at Sebring International Raceway in the season opener for the TA2 class of the Trans-Am series. Miller battled to the checkered flag in the No. 12 Speedlogix Prefix Dodge Challenger.
Stevens-Miller Racing is coming off a very successful year and has been focused on furthering the development of their cars and partnering with companies that share the same passion and goals, according to the team.
"The key to our success has always been centered on the value we provide to our customer," said Joe Stevens, owner of Stevens-Miller Racing. "We allow racers to leverage our experience and equipment at a lower cost compared to building their own car and team. This partnership with Prefix only strengthens that package and will bring better results for everyone involved. It's our honor and joy to represent Prefix this year and we look forward to putting all of our cars at the front of the grid in 2018."
Stevens-Miller Racing will field a total of four TA2 Dodge Challengers, making it one of the larger arrive and drive suppliers in Trans Am and the largest Dodge presence in all Trans Am Classes combined. The newly re-homologated Prefix 392 Hemi Engine features an enhanced power curve that will perform strongly against the Chevrolet and Ford Competitors.
"We're thrilled to support the Stevens/Miller team this year," said Jhan Dolphin, Prefix Corp.'s marketing director. "The team is an experienced group of passionate professionals, and we look forward to seeing the results of their hard work."
For many years, Prefix has developed and tested both its 392 and 426 CID HEMI Gen3 engines. In 2017, Prefix completed "turnkey" HEMI 392/426 crate engines that offer every component necessary to put them directly into a muscle car, street rod or modern performance vehicle.
The Trans Am (TA2) series provides a great test bed for further development and accelerated the performance and durability testing. The Prefix 392 race engines that currently power the Stevens-Miller Racing Team are comprised of many of the same parts as the current crate engines now available to performance enthusiasts across the country.