News
Stage 8 Creates Locking Header Bolt Animation Video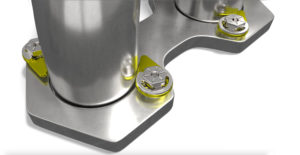 Stage 8, a manufacturer of fail-safe mechanical locking fasteners, has partnered with Utah-based AutoNetTV Media to produce a consumer bolt animation video for use on its website and social media, the company announced.
In addition to custom videos and animations for manufacturers like Stage 8 Locking Fasteners, AutoNetTV has developed vehicle owner education videos for subscription use in waiting areas, service counters, websites, Digital Vehicle Inspections, social media, email and text messaging.
AutoNetTV developed a 15-second animation showing a tubed header system from a distance, then zooming into one of the bolts to show the tightening of the bolt and how the patented retainer and retaining clip come together to keep header bolts from coming loose ever again. A 10-second animation was created to show the Stage 8 bolt compared to a non-Stage 8 bolt.
Stage 8 owner Bruce Bennett says, "Stage 8 is the only company with a completely fail-proof fastener for the automotive aftermarket. We were seeking a way to showcase this solution about how our safety locking system works in a way that would be easy to comprehend, and AutoNetTV was the perfect partner with their understanding of automotive products and animation expertise."
AutoNetTV VP-Production Development, Lance Boldt says, "As automotive content experts, we have solutions for every content need. Our company is able to take even the most complex processes and products and develop a video, with or without animation, to capture the most salient points."
Click here to watch the animation.