News
Gold Eagle to Host Cars & Coffee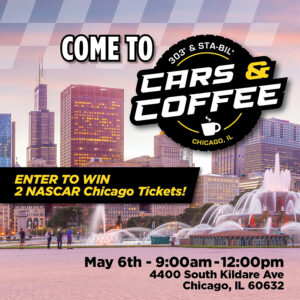 STA-BIL and 303, two automotive aftermarket brands manufactured by Gold Eagle Company, are planning to host the company's second annual Cars & Coffee next month, the company announced.
The free public event will showcase a collection of luxury, classic, and sports cars combined with coffee and light refreshments, the company said, and is scheduled for May 6 at the company's headquarters located at 4400 South Kildare Avenue in Chicago.
"Our event last year was so incredibly successful with over 125 vehicles that we are committing to hosting three this year," said STA-BIL Brand Manager Bob Galusak. "And to encourage participation we are adding a raffle where one lucky ticket holder will win two tickets to the upcoming NASCAR Chicago Street Race. This is a fun family event where you are able to meet the owners of the vehicles and ask questions. If you have a love of cars, or if you own a vehicle that would be ideal for this event, join us"
To enter a vehicle for the May 6 Cars & Coffee, arrive at Gold Eagle's main entrance parking lot by 9 a.m. Each participating vehicle entered will receive four raffle tickets for the chance to win two general admission tickets to attend NASCAR Chicago Street Race Weekend scheduled for July 1-2. The winner of the tickets will be announced at the close of the event and must be present to win, the company said. All make and model vehicles are welcome.
303 and STA-BIL branded products will be displayed and available for purchase at discounted prices at the event. Two additional Cars & Coffee events are being planned for July 1 and Sept. 30.