News
SSV Works Launches New Website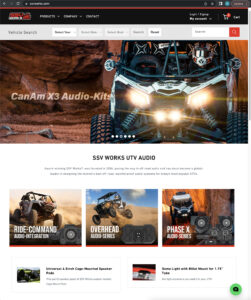 SSV Works, a provider of powersports and off-road audio systems, has launched its new website (www.SSVWorks.com), the company announced.
"As we have updated and created new and better purchasing abilities for our products, we have rebuilt ssvworks.com from the ground up in order to give our customers the best online experience possible," said Trevor Kaplan, SSV Works CEO. "Our website now utilizes the Shopify platform, which provides for a better and easier way to buy as well as providing more customer-friendly tools to utilize when browsing and selecting their new audio systems."
The new website has improved aesthetics, organization and navigation for customers, and internal system linking that keeps products consistently up-to-date, the company said.
"To make finding product information easier, we've included additional features," Kaplan continued. "Product variations such as speaker enclosures, for example, the SKU on the product page will dynamically change when you select the speaker option and clamp size option. Each product title, description and spec have been updated, along with an added 'Vehicle Compatibility' tab, making the process of finding the correct kit much simpler."
During the purchase process with the new Shopify platform, zero interest financing is now available. Payment methods such as Amazon Pay, Apple Pay and more are also now available, the company said.