News
Spotify Launches In-Car Audio Player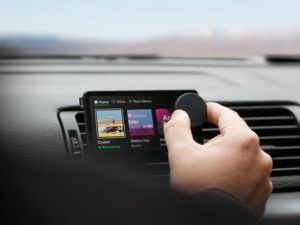 Spotify is launching its own in-car audio player, the streaming platform announced.
Called the "Car Thing," the touchscreen device can be voice-operated and connects to a user's phone via Bluetooth. It can be operated by voice, touch or with a dial and also features preset buttons.
The limited release of the device is not meant to compete with in-car infotainment systems, the company said, but is meant to create a "frictionless audio experience for our users, wherever they are and however they choose to listen."
Car Thing from Spotify is currently a limited product launch, available in the U.S. on an invite-only basis to select Spotify listeners. Car Thing requires a paid Spotify Premium subscription plan and a smartphone with WiFi or mobile data connection.