News
Spot the Impostor at the COVERCRAFT Booth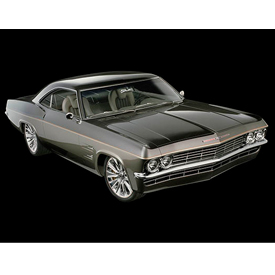 Covercraft Industries LLC-a manufacturer of automotive protection products-is set to bring a popular vehicle back to the SEMA Show this year. The Impostor, designed and built by Foose Design, will take center stage in Covercraft's booth (No. 23243) in the Central Hall at the Las Vegas Convention Center.
The Impostor is a combination of a 1965 Chevrolet Impala and a 2009 Chevrolet Corvette. The vehicle won the 2015 Ridler Award and has continued to be one of the most popular creations to come from Foose Design, according to Covercraft.
"This one-of-a-kind vehicle built by Foose Design is sure to be a crowd-pleaser and we're honored to be protecting it with a Covercraft car cover," said Mark Korros, president and CEO of Covercraft Industries.
The Impostor will be unveiled in the Covercraft booth (No. 23243) on Oct. 30 at 10 a.m. local time.
For more information, visit Covercraft.com.