News
SpeedVideo to Broadcast Winter Meltdown 5 No-Prep Shootout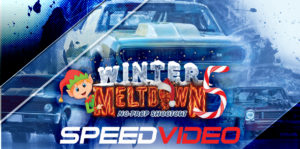 SpeedVideo will be broadcasting the Winter Meltdown 5 No-Prep Shootout this upcoming December, event organizers have announced.
"SpeedVideo has a long history with no prep racing and we're proud that it will continue with the addition of Winter Meltdown 5 in 2020," said Tom Bobolts, SpeedVideo's General Manager. "As Matt said, we shouldn't see too many shoes sticking to the track, but I know we'll have viewers stuck to their screens."
SpeedVideo.com will broadcast all of the action from Winter Meltdown to annual or monthly subscribers. In addition, there will be free bonus content made available to non-subscribers.
According to Winter Meltdown 5 organizer Matt Plotkin of Project X Promotions, this will be a true no-prep event that will challenge both drivers and tuners to navigate the track.
"This is as no-prep as it gets. We're removing 100% of the rubber and taking the track down to its barest surface by bringing in a bobcat with multiple blade attachments and scraping the track as far down to the concrete as possible. There is nothing closer to a real street racing surface than the 660 feet of bare concrete that you will experience here." Plotkin said.
Winter Meltdown 5 will feature Big Tire, Small Tire, True Street, King of the Tailgate, Full-Size Truck, 6.0 Index, 7.0 Index, and Junior Dragsters classes.
To subscribe to SpeedVideo, click here.