News
SoundShield Offering New Showroom Wall Display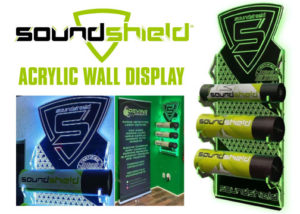 SoundShield, a producer of sound-deadening materials, is now offering a new merchandising tool for its retailers; a custom-engineered, laser-engraved acrylic and LED-lit wall display to hold SoundShield retail-packaged tubes of sound deadening material.
Designed by co-founder Bryan Schmitt, the purpose of the new display is to elevate the sound deadening category within the retail setting, the company says, allowing retailers to merchandise SoundShield products, a category not commonly considered in showroom merchandising. The multi-color LED lighting with wireless remote allows retailers to customize the display to integrate into their showroom's color scheme.
"The size of the display is compact but commands a presence, so it makes it a sensible fit for any sized retail shop" comments SoundShield CEO John Schwartz. Several 12-volt specialty retailers in the SoundShield family have tried early production models and provided feedback that proves the new display's effectiveness.
"This is an excellent way to merchandise sound deadening that presents at eye level so clients can easily see the product," said Adam Devine of Devine Concepts in Naples, Florida.
Mobile Toys, Inc. in College Station, Texas, also has implemented the display in their store and reports that their customers ask questions about what sound deadening is because of the display, which ultimately leads to sales, SoundShield says.
The SoundShield wall display includes the necessary mounting hardware, multi-color programmable LED lighting and weighs just 25 pounds. SoundShield offers a direct purchase of the wall display or discounted pricing with a qualifying minimum product order. If not already a dealer, retailers can fill out a quick application at www.soundshieldusa.com.