News
Sonoma Speed Festival Tickets Now on Sale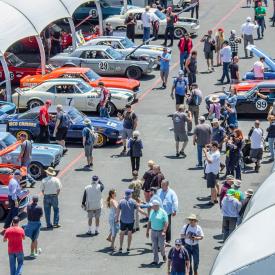 The Sonoma Speed Festival has announced that tickets for its second annual motorsports festival, are now available for purchase on its website. Taking place from May 28-31, 2020, the event will feature over 300 racecars, wheel-to-wheel vintage racing, tastings from top local wineries and other historic and cultural exhibits.
The 2020 Sonoma Speed Festival will feature nine race groups ranging from pre-war sports cars through late-model endurance racers. In addition, special vehicles and classes will be performing demonstration laps throughout the weekend.
"The inaugural Sonoma Speed Festival proved to us that there is an appetite for a world-class motorsports festival in North America," said the event's founder Jeff O'Neill. "With the support of the local community here in Sonoma and the motorsports community, we are charging ahead full-steam for the 2020 event. Event attendees can expect to see top tier cars, sample the world's best wines and indulge in gourmet food in a fun, family-friendly environment."
Tickets for the Sonoma Speed Festival can be purchased here. For more information about the Sonoma Speed Festival, visit the event website.