News
Sonny Leonard Builds 1,400-Horsepower Engine for PRI Sweepstakes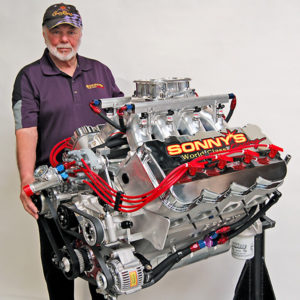 Performance Racing Industry (PRI) and Sunnen have teamed up with Sonny Leonard from Sonny's World Class Racing to raffle a high-performance engine during the PRI Trade Show, set for Dec. 12-14, at the Indiana Convention Center in Indianapolis.
Tickets are available now for the 31st annual Sunnen Engine Charity Sweepstakes, with all proceeds going to Victory Junction, a camp founded by NASCAR's Petty family for children with serious illnesses.
"It's such an honor to have Sonny Leonard and his team generously volunteer their time to build another engine for the Sunnen Engine Charity Sweepstakes," said Karin Davidson, PRI trade show director. "Their engine last year raised a record amount for Victory Junction, and we're looking forward to the excitement that this second, more powerful engine will generate."
The 2018 Sweepstakes raised more than $102,000, crushing the previous record of $59,000. This year's engine-a 762 cubic-inch, 1,400-horsepower beast-is even bigger than last year's custom-built 727 cid build.
The naturally-aspirated, hemispherical head EFI build for PRI 2019, which can be street or strip driven on 93 octane gasoline, will include Leonard's fully in-house ported hemispherical cylinder heads, Sonny's/Brodix 5.000 B.S. block with a 1-inch raised cam, special high-flow water jackets, Bryant billet crank, and CP-Carrillo steel billet rods.
This year's PRI Trade Show will feature more than 1,100 companies exhibiting in more than 3,300 booths and showcasing the latest products, services, machinery, simulation and testing technologies, and trailers for the racing industry in a single location.