News
SnugTop Expands GB Sport Topper Applications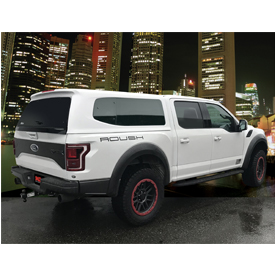 Snugtop has added the 2015-'18 Ford F-150 Double Cab pickup with a 5.5-foot bed to the roster of vehicles that can be equipped with the firm's new GB Sport cap.
The GB Sport features sculptured side windows that compliment the sweeping, angular contours of today's pickup trucks. It's also equipped with pop-out rear windows, a subtle rear spoiler that incorporates an LED rear brake light, and an all-glass tailgate with curved glass, according to the company.
Following a Snugtop tradition, the GB Sport has a wrap-around rail with a double-bulb rubber seal, one-piece construction with a 5/8-inch honeycomb roof reinforcement and heavy-duty hinges and hardware with rotary tailgate latches and stainless steel rods. Important features include a Snugrug interior shell liner, an interior LED light and a fixed or sliding glass front window.
The GB Sport cap, made in Long Beach, California, is painted to match factory colors using the Axalta ChromaPremier system. Multiple rack options are available to expand recreational enjoyment.
Additional details can be found at Snugtop.com.