News
Snafu Prevents 4 Wheel Parts CEO from 'Mint 800' Milestone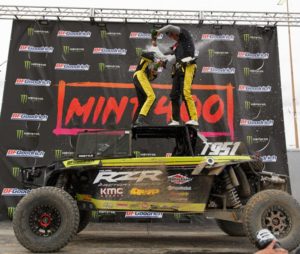 4 Wheel Parts (4WP) proved the hot start to its 2019 off-road racing season was no fluke after coming away victorious in the Mint 400. Mitch Guthrie, Jr., cemented his role as the nation's dominant UTV professional driver by winning the 2019 Mint 400 UTV Pro Turbo race just one month after his King of the Hammers victory.
4WP's newest driver, 16-year old Seth Quintero, took the 2019 Mint 400 UTV Pro title to become the youngest winner in the event's celebrated history.
"On behalf of everyone here at 4WP, I want to extend a huge congratulations to both Mitch Guthrie Jr. and Seth Quintero," said Joey DiGiovanni, 4WP director of creative marketing and partnerships. "These young men are on their way to amazing careers, and we are so excited to have them on the 4WP Official team and as brand ambassadors."
Craig Scanlon had a strong performance in the Pro Turbo race, finishing in 20th place out of a field of 76 that looked like a virtual Who's Who list in UTV racing, according to the company. An errant rock to the radiator in the 6100 Spec Truck race thwarted his effort to complete the unofficial "Mint 800" feat, which would require completing two Mint 400 races in the same day.
Scanlon's task is documented in CHASING THE MINT, a docuseries that was rolled out on The Dirt by 4WP and will conclude this week with a long-form video story.
4WP's Sara Price, Ted Moncure and RJ Anderson all faced their own sets of challenges, with the latter being the only one of the three to complete the 400-mile race, despite suffering five flat tires. Moncure and Price are now gearing up for the upcoming SCORE San Felipe 250 in Mexico while Anderson has his sights set on this weekend's opening round of the Lucas Oil Off Road Racing series, where he will be defending his 2018 Pro-4 Championship title.