News
Skunk2 Returns to NHRA Top Fuel with New Funny Car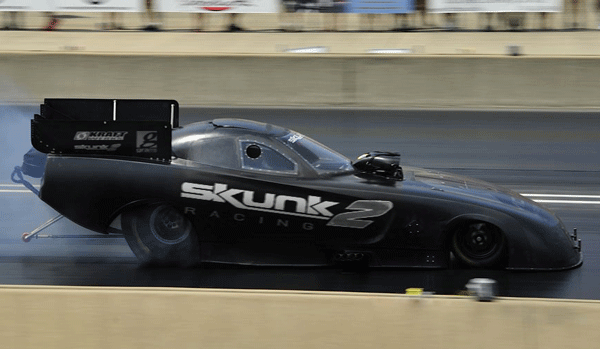 Skunk2 is set to return to NHRA Top Fuel Funny Car Racing competition. The team's new funny car boasts three superchargers-two air, and one fuel-to atomize the nitro fuel droplets for a more complete burn.
David Hsu, the founder of Skunk2 racing, worked very closely with his long-time friend Larry Ellison of Oracle fame to develop the software required to properly atomize the nitro and sync with the two forced induction Kraftwerks Superchargers.
Honda is partnering with Skunk2 Racing, a long-time Honda Performance Aftermarket supplier and advocate, which will run with an NHRA Honda Type 'R' funny car.
Hsu designed the projected 9,000 horsepower engine and is being assembled and tested in conjunction with noted supercharger experts, and former F-1 engine builders, Cosworth Engineering at its facility in Strafford-upon-Avon in England.
The first vehicle tests on Feb. 29 were already well into the 4-second range at 1,000 feet, according to Jeff Giovino, general manager for Group-A Engineering, the parent company of Skunk2, Kraftwerks Performance, and Grams Performance. Though initial tests were conducted using a purchased three-year-old ex-Tony Pedregon chassis with one of Tony's old Mopar bodies, Skunk2 Racing is currently building the new chassis and Type 'R' body at its Norco, California shop. Plans are to debut it at the June 20-23 Summit Racing Equipment NHRA Nationals in Norwalk, Ohio.
Skunk2 Racing is nearly 25-year-old manufacturer with the stated goal of building the highest quality and best performing aftermarket parts for sport compact vehicles. For additional information, call 951-808-9888 or visit skunk2.com.