News
Shops Play Major Role at Prewar-Car Swap Meet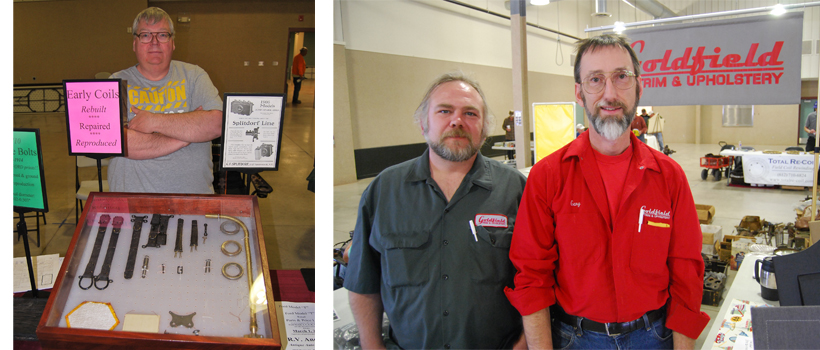 EDITOR'S NOTE: The following blog was written by John Gunnell, owner of Gunner's Great Garage Restoration Shop in Manawa, Wisconsin. Gunnell regularly contributes articles and industry-driven observations for THE SHOP magazine and eNewsletter. See images in the gallery above.
Shops that repair or fabricate very old car parts played a major role in the March 16-17 Chickasha Prewar Swap Meet in Oklahoma.
The Chickasha meet is exclusively for cars and parts manufactured between 1895 and 1945. There were probably no parts there for cars made in the 1800s, but there were a lot of parts for Model T Fords, which were made from 1909 until 1927.
This swap meet has a large business-to-business element, with dealers selling to other dealers before the public arrives on the Friday of the event.
The reason for so many specialty shops being involved in this market niche is the scarcity of parts. Also, while there are parts catalogs for Model T Ford owners, there's a general feeling that fixed-up original Ford parts are considered to be of better quality than reproduction parts made overseas.
While the swap meet offered indoor and outdoor spaces, the larger vendors such as Coker Tire Co. were situated in the indoor spaces. That is also where all the shop owners who do specialized work set up as well.
Things were pretty busy on Friday morning (March 16) of the meet, but it slowed down toward the afternoon. A lot of vendors selling used parts in outdoor spaces left on Friday night. Nearly all the shops that do specialized repairs manned their booths until about noon on Saturday (March 17). At that time, most closed up and packed up so they could attend a free lunch put on for vendors.
Here is a rundown of shops that were vending at the Chickasha Prewar Swap Meet.
Andy Wise of Ellendale, Delaware was a certified Ford mechanic for 35 years. He restored a 1953 Chevy truck while he was still in high school. Today, he owns an award-winning 1926 Pontiac and a 1917 Oakland. His Andy's Garage provides several specialty services to restorers.
Wise relines the cone clutches used in early cars with soft Kevlar. He also does shock absorber strapping and re-straps antique Gabriel shocks. Another of Wise's services is relining mechanical brakes.
Wise can be reached at 302-245-7276.
Total Re-Coil
Mark Fleischhacker of Minnetonka, Minnesota restores magneto field coils for Model T Fords and Fordson tractors.
The ignition system used in both Ford-built machines was identical and consisted of a low-tension flywheel magneto and high-tension coils. Total Re-Coil specializes in field coil rewinding. Fleischhacker has been a Model T hobbyist for years and his retirement business evolved out of his passion for Model Ts. He also knows all of the different design variations and which coils were used in specific years. His rewound field coils can make a Model T run much better. He can be reached at 612-710-6824 or mark.totalre-coil@comcast.net.
Russ Furstnow Antique Speedometer
Russ Furstnow of Flagstaff, Arizona is a true artist when it comes to restoring antique car speedometers. He also supplies speedometers and parts for them.
Looking at Furstnow's swap meet display conjured thoughts of being in a jewelry store checking out fine watches. About half the units on display were shiny brass speedometers for Brass Era cars. The rest were done with a shiny black finish. Some of the brands were Johns-Manville, Stewart, Stewart-Warner and Joseph W. Jones. I thought the prices were very reasonable compared to an Indian motorcycle speedometer I need.
Furstnow also sells parts and set-ups. For more info, call him at 928-526-1343 or email 1stnow@msn.com.
R.V. Anderson
R.V. Anderson, of Kennedy, New York manufactures over 200 parts for Model T Fords. He is well known for his knowledge of Model T engineering. His specialties include field coil rewinding, 1909-1927 ignition coils, 1903-up vibrator coils, top straps and hardware and coils and parts for all brands of cars that qualify as horseless carriages.
Anderson is an expert in early electrical systems. He rebuilds, repairs and reproduces early electrical coils. Anderson said all of his rebuilding work is fully guaranteed.
Call him at 716-267-3526 or email rvmodelt@netsync.net.
Dave's Restoration & Machine LLC
Dave Nolting of Ashley, Ohio makes hard parts for Model T Fords. A lot of them are heavy, too. Nolting's products include a new forged transmission shaft that's heat treated and CNC machined and transmission drums and brake drums made of ductile cast iron. He offers reverse gear drums, low gear drums, narrow drums and wide drums.
Nolting can be reached at 740-360-1904 or by emailing davesrestoration.machine@gmail.com.
Woodgrain by Estes
Woodgrain by Estes of Lafayette, Indiana, specializes in reproducing original grain patterns that automakers used on dashboards, window surrounds and other classic car parts. The company's secret is using the original equipment, which Estes purchased from the National Cash Register Co.
Estes has several hundred plates, each of which provides a different, original-style grain pattern. The end result is a wood grained part that looks just like it did when it left the factory years ago.
Call 765-427-7078 or email woodgrain@comcast.net for more info.
Goldfield Trim & Upholstery restores soft trim items on antique automobiles, including interiors and convertible tops. The company specializes in factory original restoration.
Goldfield Trim interiors are handcrafted using standard upholstery techniques. Period correct foundation material and padding are used when available. Early horseless carriage seating is hand stuffed with curled hair using appropriate tacks, fasteners and finishing strips. Convertible tops for early vehicles are custom made to a vehicle, if the vehicle is brought to the trim shop in Des Moines, Iowa. Owner Gary Martin is a graduate of the auto restoration program at McPherson College.
J.P. Anderson Antique Auto Wood Specialist
J.P. Anderson of Gerry, New York is the brother of R.V. Anderson. J.P. makes wooden parts for Model T Fords including top bows, floor boards, running board blocks, fender blocks, arm rests, stretcher strips and more. J.P. has researched all of the Ford design variations and can remake the wood parts you need to properly restore a Model T.