News
Shop Wins Custom Jeep from Meyer Distributing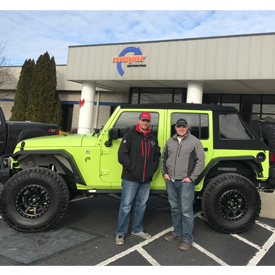 A 2017 Jeep Wrangler loaded with aftermarket products has been rewarded by Meyer Distributing to a shop in Georgia.
Participating jobbers earned entries for the Jeep giveaway for each $500 purchased through Meyer. After six months of entries, the winner was finally announced, as Trinity Motorsports in Pooler, Georgia, drives away with the fully loaded Jeep.
"We rely on Meyer as our go-to distribution partner for all things truck, SUV, and performance parts," said Dan Ward, co-owner of Trinity Motorsports. "Meyer has earned our business and trust with quality parts, competitive pricing, first-person communication, and consistent deliveries. When we found out Trinity Motorsports won the Meyer Jeep giveaway, we couldn't believe it. What a great end-of-the-year present from a valued partner. We're going to use the Jeep to showcase the high-quality brands used on it and show our customers the diverse products we sell at the shop."
Meyer Distributing teamed up with some of its top brands on the Jeep. Products installed include:
Fabtech 3-inch Trail Long Travel Suspension System with Dirt Logics 2.25 ResiShocks and Driveshafts
Iron Cross Automotive front and rear bumpers, steel flares, side arm steps
Warn 9,000-pound winch with Epic Hook and Shackles
Yukon Gear and Axle 4.88 ring and pinion, upgraded axles
Bestop black twill Trektop NX Glide, floor mats and underseat security
Borla ATAK Axle Back Exhaust System with black tips
Rigid Industries rock lights, side shooters, chase light, heated led headlamps
Mickey Thompson 37-inch Deegan 38 Tires and 17-inch Deegan Pro Wheels
DBA performance rotors & pads
Hypertech Speedo Calibrator
Advanced Accessory Concepts trigger light controller
Artec Industries inner fender liners
"This was an exciting contest that thousands of our customers got behind. Early buzz was created when we unveiled the Jeep at the Unlimited Off-Road Expo in Louisville last year and got additional press through many channels" said Nick Gramelspacher, vice president of sales & marketing for Meyer. "Making that call to Trinity to inform the guys they won the drawing was a great feeling and they truly appreciated it".
Meyer Distributing will announce more vehicle giveaways this year.