News
Shop Exits Comfort Zone to Help Customer in Need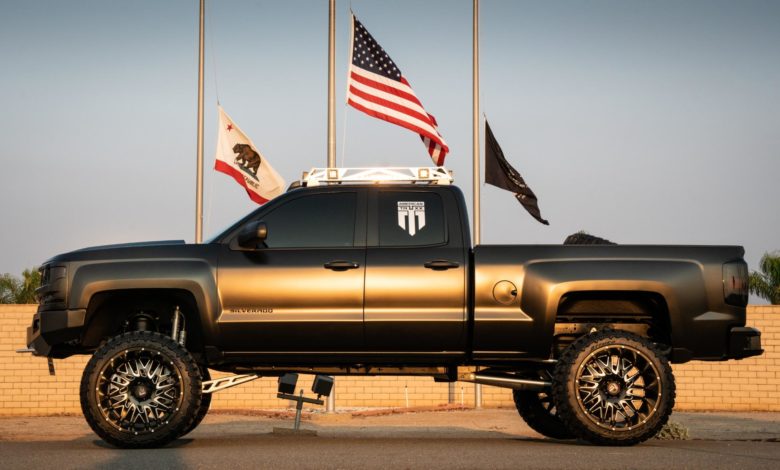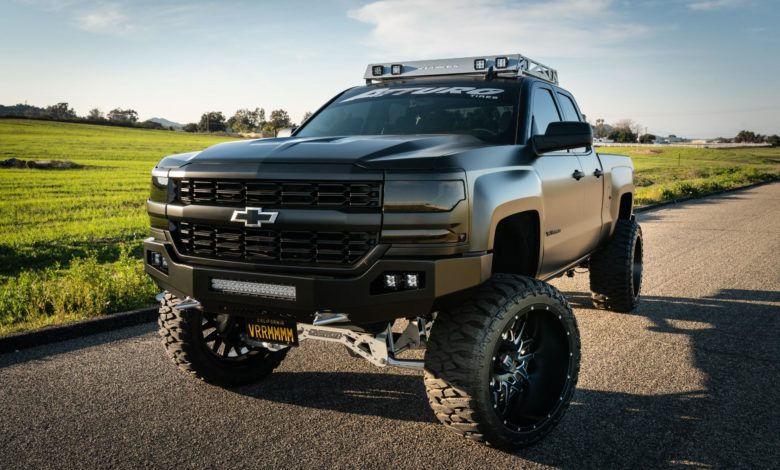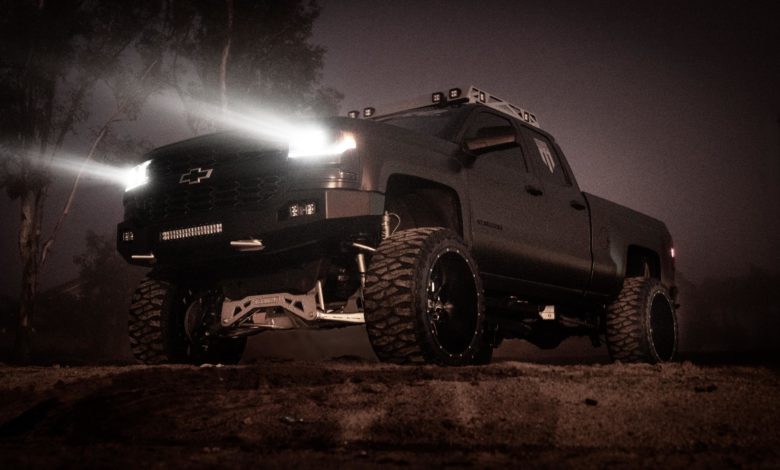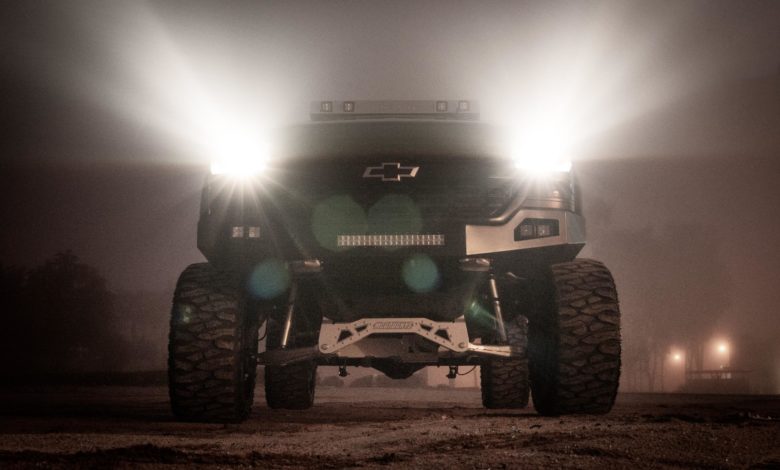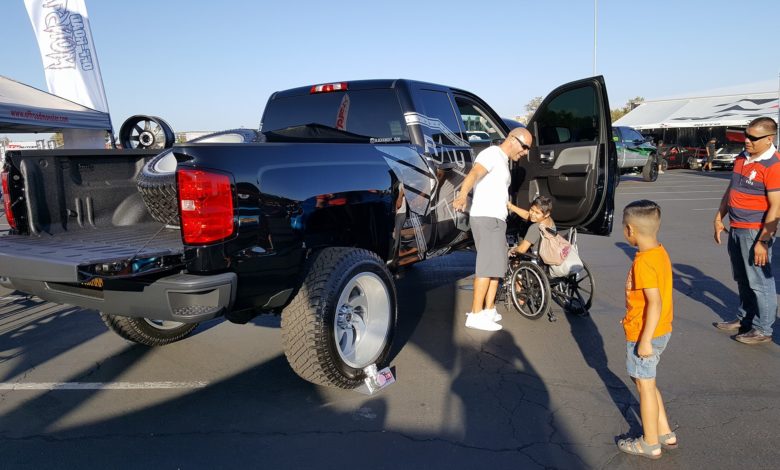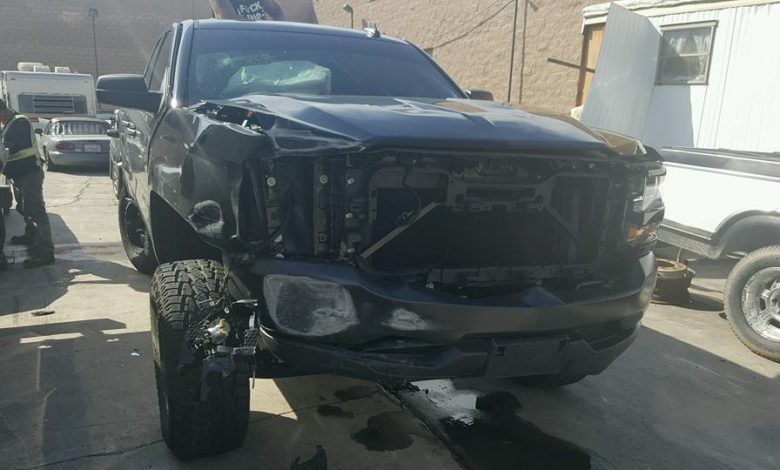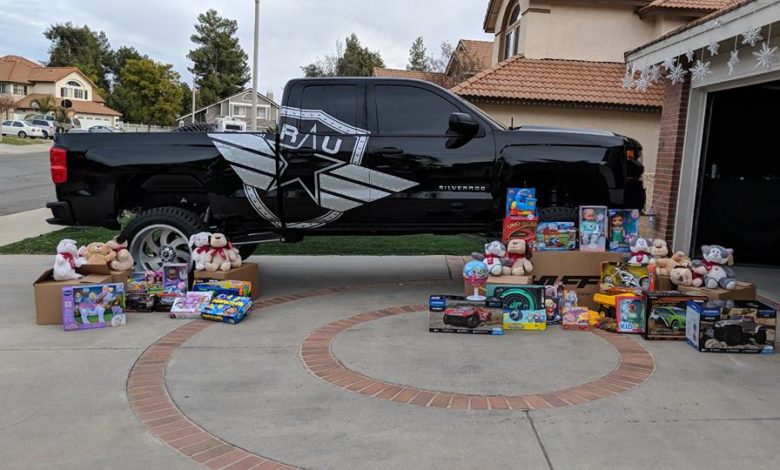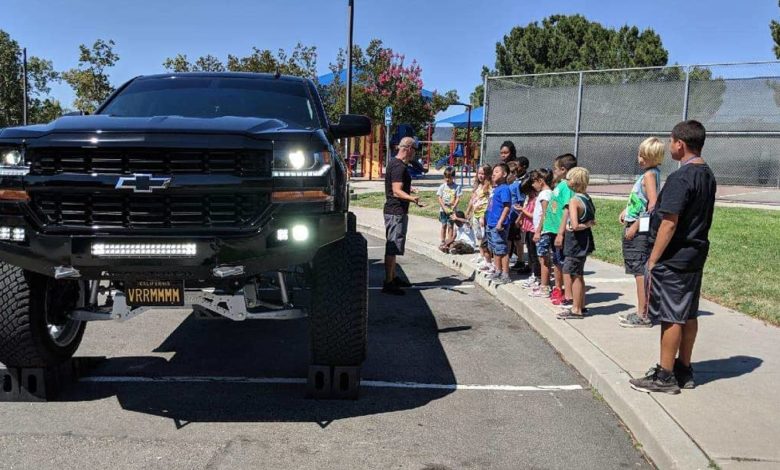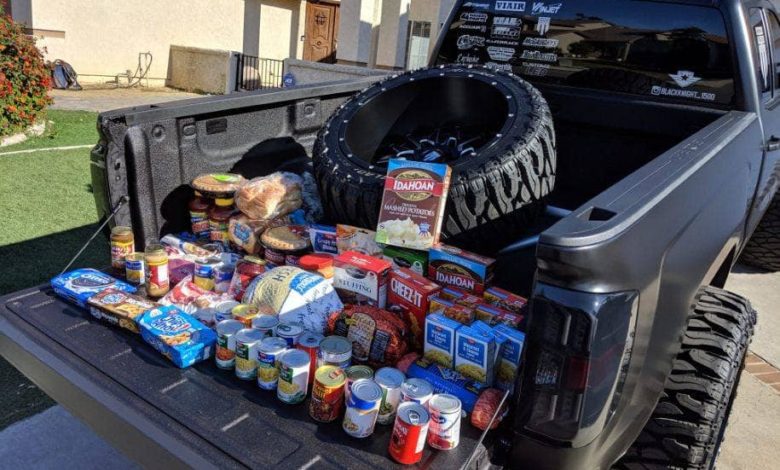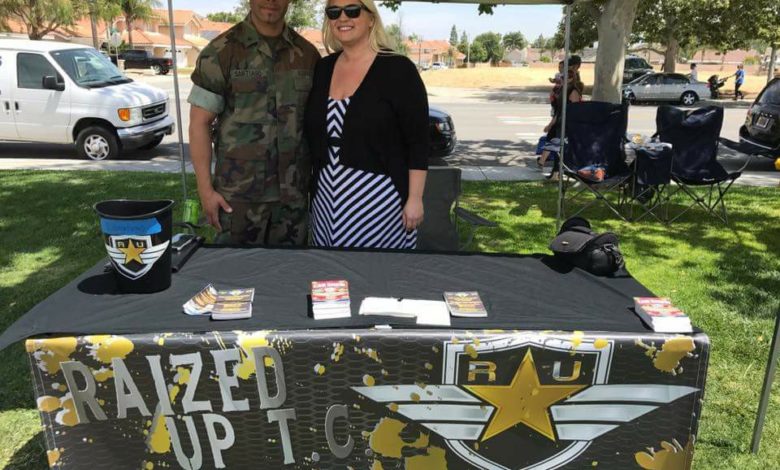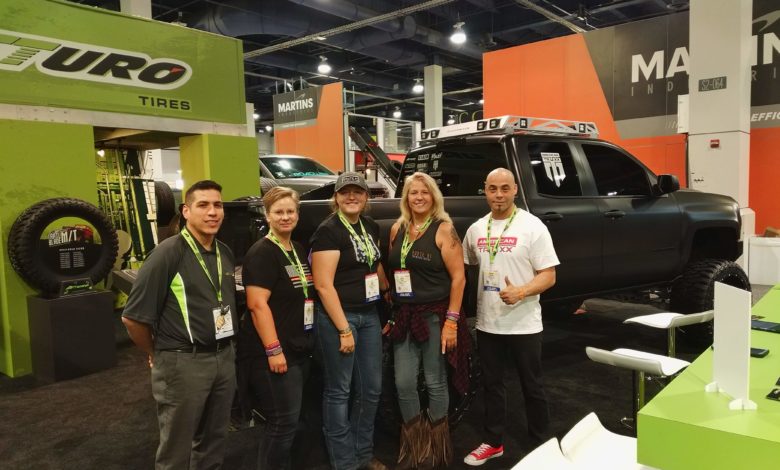 When it comes to community service, many people donate money, others give their time-and some give truck accessories.
In one particular case from last year, a Chevy Silverado 1500 was fully customized by Meyer Chassis in Murrieta, California with an air-lifted chassis, Atturo tires and a wheel rack custom-built into the truck bed, all of which were donated by aftermarket suppliers. The truck is called the Black Knight because its finished look is so stunning and unique that it was featured at the 2018 SEMA Show in Las Vegas.
Behind the beauty of the customized rig is a heartbreaking story of how a near-fatal accident propelled a service-oriented husband and wife to do whatever they could to help people in need around their Southern California community of Murrieta.
A few years ago, Damion Santiago, a disabled military veteran, and his wife Charlinda started doing custom upgrades to their 2016 Silverado, adding a basic lift kit, rims and paint. They quickly noticed that everywhere the truck went, it attracted a small crowd of onlookers.
The Santiagos recognized the impact the truck could have for many people in their community-especially veterans, displaced children and special needs individuals, who were in need of assistance-so they started participating in and organizing food and toy drives around the holidays, utilizing the truck as a centerpiece.
"We would drive out in the community with the truck and found that people were really attracted to it," Damion said. "We know that there's a lot of displaced children in this community and a lot of special needs kids, so we decided to do something to help them out."
Using the truck as a vehicle to deliver donations of food and toys proved to be a hit because people were drawn to the fancy rig, asking questions and taking pictures of the vehicle.
Then disaster struck. On their way home from a charity event in Corona, California, the Santiago family was rear-ended on the freeway by a distracted driver who had not seen that traffic had come to a complete standstill. Even though the Mitsubishi sedan was small, it hit the truck with a force so great that it pushed the truck a half-mile forward, spinning it around and slamming into the concrete median barriers in the middle of the freeway.
"I had looked in my rearview mirror and saw this guy driving fast right toward us and yelled 'hold on' to my family," Damion recalled. "The car hit us and actually went under the truck, lifting us up and pushing us for about a half-mile into a concrete barrier. All of the airbags deployed and luckily all of us, me, my wife and our 5-year-old son, were ok, but it completely totaled our truck."
While his insurance coverage pretty much paid to replace the truck, it didn't cover the aftermarket add-ons that made it stand out. So, after some consideration and discussion about their priorities, the Santiagos decided to build a new truck to be bigger and better than the previous one.
"We were conservative with the first truck," Damion said, "but once the accident happened, we had a whole new outlook on life and said, 'Screw it, we're going to do it and do it big. That's what we deserve and that's what the people we are helping out deserve as well.'"
Coming from a mini-truck background, Damion wanted to put the new Silverado 1500 on a full air ride suspension with independent driver control to make it stand out in a crowd. So, he approached Dustin Meyer, owner of Meyer Chassis in Murrieta, to see what could be done to make his dream come true. That's the moment that several companies within the aftermarket became involved.
"We had never done a lifted truck with air ride before," said Meyer, whose 15-year-old shop covers 4,700 square feet and has three employees working on 10-12 cars at a time. "He wanted to do something different while also making it look nice, clean and drivable."
Meyer's team ended up doing the majority of the custom platform work including the suspension, air ride, front and rear bumpers and fabrication of the tire carrier for the truck bed. Santiago added a roof rack, lights, graphics and Atturo Trail Blade tires to complete the look.
"It was a fun build," Meyer recalled. "It wasn't the same old thing that we've always done; everything was a one-off. I like to torment myself with challenges, but it's something that we love to do and it's fun. Also, it's nice to put your hands on something we know is doing some good in our community."
The idea to take the Black Knight to SEMA came from Joe Gomez of Atturo Tires.
"Joe took a look at the truck and said, 'Let's put some tires on this and get you to SEMA,'" Damion said. "He believed in us so much that he put us in their booth. That was huge for us."
At the SEMA Show, Damion continued his community service efforts by inviting three shooting victims from the deadly Las Vegas mass shooting at the Route 91 Harvest Music Festival to ride in the truck during the closing parade. The Santiagos also used their truck to organize a car show to help raise funds to donate to the family of a woman and her unborn baby who were killed by a drunk driver on the freeway.
"We put the word out to the car community and ended up having 50-60 cars jammed in a tight lot and raised about $3,000 to help out the family," he said. "It was a great event."
Damion estimates that his nonprofit 501(c)(3) organization, Raized Up, has served approximately 200 people with food, goods, toys and rides in the Black Knight. The group has active Facebook and Instagram accounts to chronicle the truck's adventures and services, while promoting upcoming events.
Ever evolving, the Black Knight is currently undergoing another makeover to prepare it for a return visit to SEMA.
"We're going to flare out the fenders, get a cowl induction hood and the best part, for me, is we're going to Bullet Liner the whole truck, from front to back of the entire truck," Damion said.
Of course, the truck will still be Raized Up, actively delivering food and toys to needy people wherever it goes.
Here are the sponsors who helped make the Black Knight a reality:
Team Plus Bullet Liner Murrieta
Atturo Tires
American Truxx
ViaAir
AccuAir
Boondocks Bumpers
McGauphy Suspension
Awthentik Wraps
Horn Blaster
WinJet
RazerRack
Exclusive Autobody & Customs
CustomzLED
4 Wheel parts