News
Shop Ensures Santa Can Fly…With a V-8 Power Stroke Diesel Engine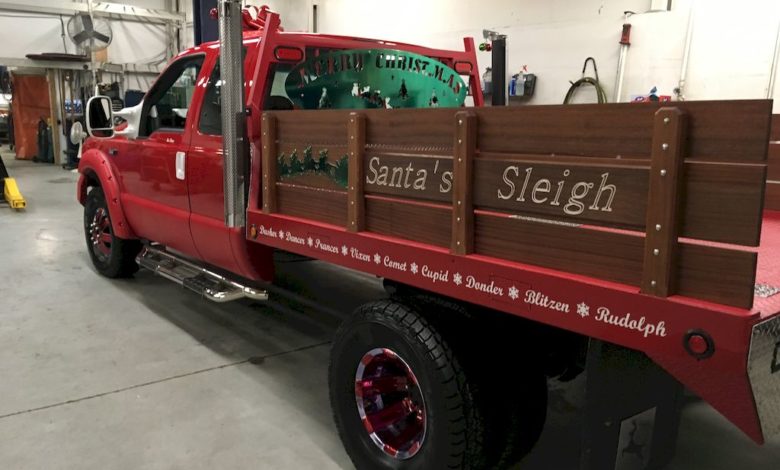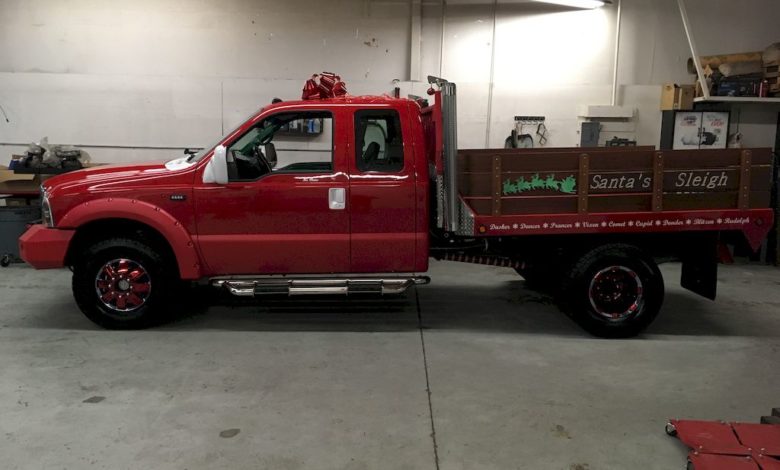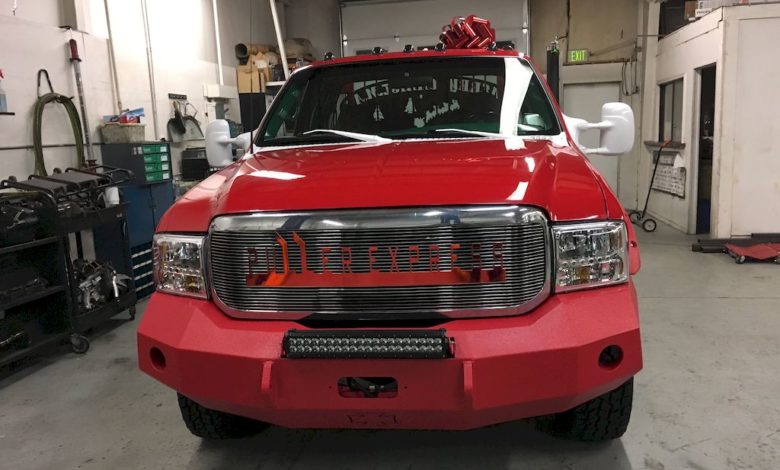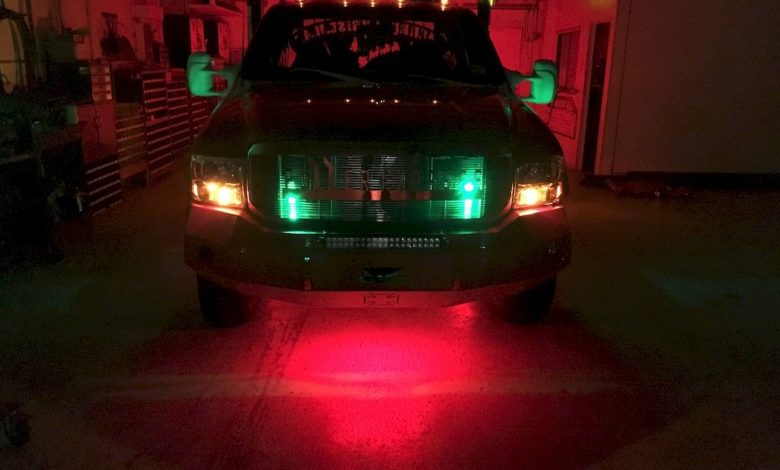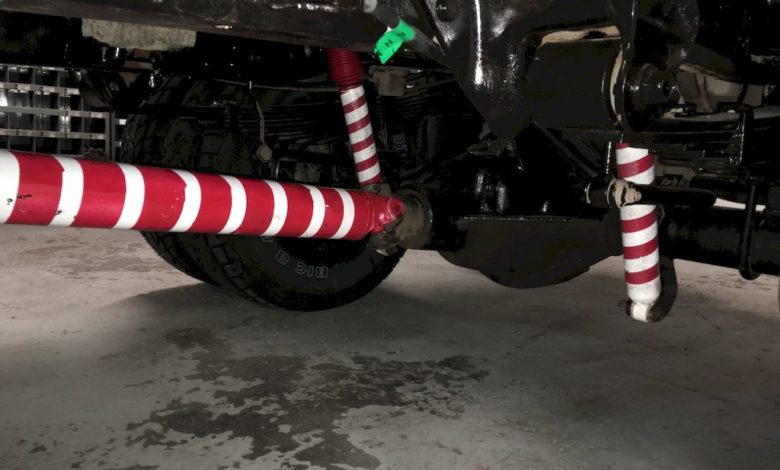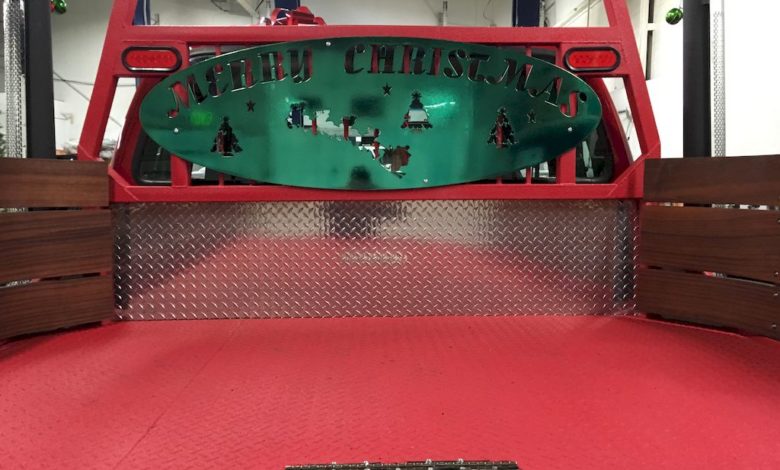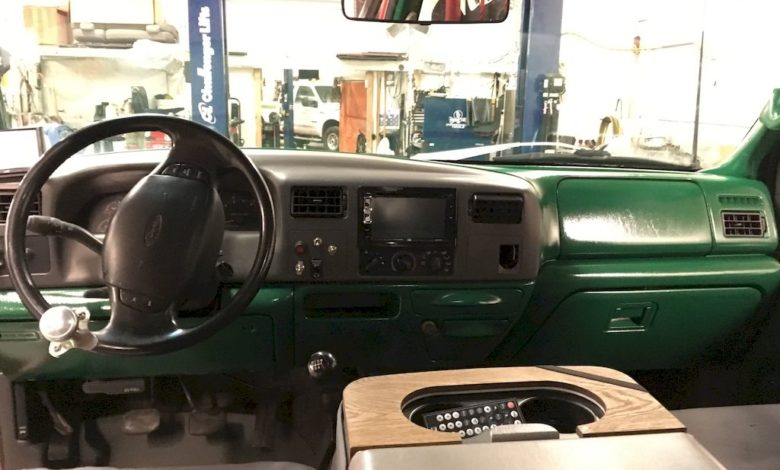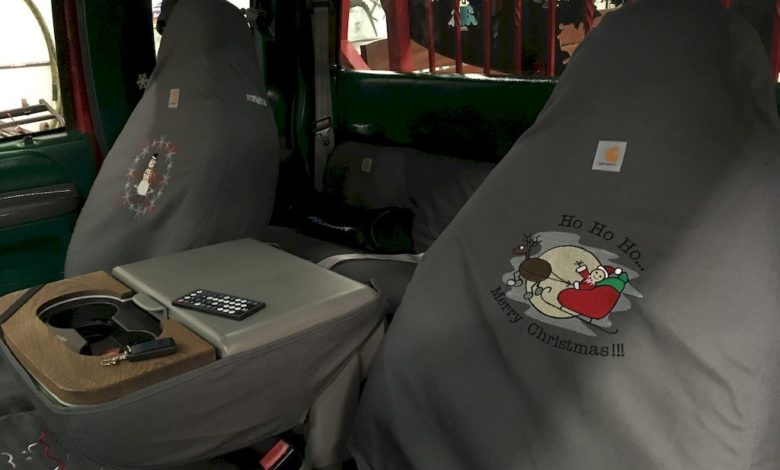 Santa's sleigh just got a major upgrade for Christmas.
Now instead of being powered by eight tiny reindeer, it will be powered by a 235 horsepower, 7.3 liter V-8, power stroke diesel engine.
This may be the feel-good story of the season-"a true Christmas miracle of love, community devotion and teamwork. It's about a nationally-ranked diesel shop that saw a need, put out a call for help, coordinated a community-wide effort and worked their antlers off to build the most unique sleigh for the city's beloved Santa Claus.
It all starts with Bill Lee, who is known in and around his home of Golden, Colorado, as Santa Bill, because he looks and lives life like Santa Claus, dedicating each holiday season to appearing at events all over town as jolly old Saint Nick. His life is so devoted to the life of Santa Claus, he even has eight actual reindeer. Many people believe he really is Santa, or at least the closest you can get.
Santa Grounded
When Santa Bill's trusty and rusty diesel pickup truck caught fire and burnt to a crisp in September, he was without transportation with Christmas right around the corner.
Living on a seasonal income-"he is Santa, after all-"Santa Bill was in a pickle because his finances were few, if not non-existent.
"Bill's been a longtime customer of mine," said Jeremiah Curtis, owner of Bodacious Diesel in Golden. "He never bought anything new and is always trying to keep his old stuff patched up and running and robbing Peter to pay Paul to do it. So, we found a truck that could be fixed up to get him from point A to B, and it wasn't a gem to start with. It had a missing bed, bald tires, rusted out parts, brake caliper handing, motor blown, transmission fused, hail damage, etc."
That night, when Jeremiah told his 4-year-old son, Chase, about Santa Bill's situation, his son told him that he had to build a sleigh for Santa.
"I went home and told my kid that Santa's sled burned down and he about burst into tears," Curtis recalled. "But then I tell him 'but guess what? Daddy's going to build him a new one,' and he pretty much just did cartwheels and backflips off the couch. I really didn't know at that point that we were we going to build what we built yet, but I knew that we were going to do something more than what Bill and I had originally talked about."
After a few days of brainstorming with his Bodacious crew, Curtis came up with a plan to go well beyond restoring a truck in the traditional sense, and began creating a special custom rig that looked and played the part of Santa's sleigh. Curtis immediately put out calls to local businesses he had known and worked with throughout Golden, including parts suppliers, transmission specialists, body shops, and even a tow company He was surprised by how many people were not just willing to contribute to the project, but excited to participate.
The catch was that it had to be done right away. With just over a month until Thanksgiving, the official start of the holiday season, the project had to roll into high gear and everything had to go perfectly if they were going to pull off the surprise. With Curtis at the center of it all and backed by his Bodacious crew, Operation Santa's Sleigh became a 24/7 mission.
"I never closed the shop," Curtis said. "We still had our paying customers-"we're a very busy shop."
Very Busy Shop
In fact, according to Premier Performance Products, Bodacious Diesel ranks 43rd in the nation and 11th west of the Mississippi by sales volume.
"You can't just shut down that kind of a machine," Curtis said, "it's kind of breathing on its own."
From an industry perspective, the dedication of Curtis and his crew to getting the project done in a timely manner was impressive, according to Derek Thompson, regional sales manager for Premier Performance.
"All of the late nights and weekends that were put in on this truly shows how selfless they all are, willing to go above and beyond for the good of someone else is something we can all take from this," Thompson said. "Jeremiah is someone who truly leads by example; he is the first one there and the last one to leave so when his guys and others involved with this build saw him it was contagious, and they all jumped in with this. With this big of an undertaking and doing this in such a small window of time really shows how great Jeremiah was with his communication."
Thompson said that communication is key to accomplishing a project of this size and scope.
"As a leader, you need to be able to clearly and succinctly explain to everyone everything from big picture goals to specific task that need accomplished daily," he said. "A large part of communication involves simply listening to others and their ideas. I know that Jeremiah's team had a lot of input on this build, which adds to the list of why Jeremiah was successful in this big endeavor."
A Sleigh That Slays
At least 20 businesses contributed to Operation Santa's Sleigh, some with money and others with materials, discounts or just plain old-fashioned labor. All told, Curtis estimates that more than 5,000 man-hours went into the project. Curtis won't begin to estimate the total cost of the project because he said it was never about money. They utilized the chassis and body of a used tow truck. It was transformed into a custom beauty named the Puller Express.
"The whole thing is not about a truck, a truck can be replaced and it's something to be proud of, but what we all did, coming together, that was the gift," Curtis said.
The bright red and white rig is designed with everything from candy-cane striped shocks to solid handcrafted wood side panels out of Sappelli, an African hardwood, engraved with the words "Santa's Sleigh" across the side and the names of the reindeer running the length of the truck bed. There are green and red accent lights all over the truck and with the push of a button on the key fob, sleigh bells ring.
But the Puller Express is no slouch of a sleigh, featuring a 7.3-liter power stroke diesel and six speed transmission, four-wheel-drive, one-ton dually frame.
"That truck is built to work," Curtis said. "That truck is built to put 10,000 pounds behind it and heads up in 8 percent grade and just run cool and love it."
With the project completion date set for the week before Thanksgiving, Curtis had to hustle to get all the parts into the Bodacious shop in time to have it ready for a big reveal. It was touch and go for the Bodacious crew.
"The wheels got done two days before the reveal and were still curing with that cool colored chrome that they put on there, so I called the manager at the Big O Tires here in Golden and he said, 'You scratch those wheels and you will not wake up tomorrow. You need to be very careful with them,'" Curtis said. "So, he came in on his day off, the store manager, and mounted the tires himself."
Gift of Christmas
On the night of Nov. 18, four days before Thanksgiving, more than 100 people were waiting at the Bodacious shop to surprise Santa Bill when he arrived for what he was told would be a photo shoot at a private party. The reveal went off without a hitch and the surprise brought Santa Bill to tears-"he was nearly speechless. He hugged Curtis and the other volunteers and tried to make sense for the Christmas miracle that had just landed in his lap.
"You know, I depend much on my trucks and to have a truck like this that's going give me years of good service. It's just unbelievable for me," Santa Bill said at the party. "I'm hoping that it doesn't go quite as fast as the reindeer."
"It was a big effort," Curtis said, "A lot of work and a lot of fun and I think when it was done a lot of people were kind of lost, like what are we supposed to do now?"
And throughout the entire project, Curtis' son was there helping whenever and wherever he could. You can just imagine the stories he will someday tell his grandchildren about the time grandpa helped build Santa a brand-new sleigh.
Yes, Santa, this was a real-life Christmas miracle.
List of Contributors for Santa Bill's Truck
Golden Coach Works Auto Body & Paint
Advance Auto Parts
Rocky Mountain Driveline Company
AC Transmission & A1 Transmissions & Parts Company
Boot Hill Truck
Industrial Injection
Big O Tires
VJ's Embroidery, E&G Terminal, Tracy's Welding