News
SEMA360 Releases Education Program Schedule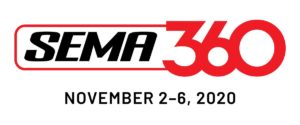 The SEMA360 Education Program schedule has been released and will feature more than 30 professional development seminars and candid conversations with industry-leading celebrities and personalities.
Each session will take place in SEMA360, the online event scheduled for Nov. 2-6. Attendees will be able to sign up for an unlimited number of seminars at no additional cost when registering to participate in SEMA360.
"While circumstances have refrained us from meeting in person this year, SEMA remains committed to helping our industry members succeed and prosper," said Gary Vigil, SEMA senior manager of professional development. "Each educational session in SEMA360 was carefully crafted to help attendees make smarter business decisions, and offers the exciting opportunity to hear stories and advice from a diverse collection of highly successful, entrepreneurial leaders."
The program includes sessions on online marketing and business management, vehicle accessorization, aftermarket trends and research, advanced vehicle technology and more. Each session is designed to help businesses succeed and automotive aftermarket professionals advance their careers, SEMA says.
"Now more than ever, our members are looking for new and effective ways to come together and build on their industry knowledge and create long-lasting business relationships," said Vigil. "SEMA360 Education will open new doors to those who are looking to enhance their expertise and get more involved in the industry."
Seminar Schedule – Pacific Standard Time
Monday, Nov. 2
8:00-9:00 a.m. Keynote
10:00-10:30 a.m. 4 Tips to Double Your Company's Annual Sales
12:00-12:45 p.m. Today's Tuner Car Market
1:00-1:15 p.m. The STAGE – Interviews With Leaders, Legends and Influencers
2:00-2:30 p.m. Sell Smarter: Maximize Online Profits – Powered by SDC
3:00-3:15 p.m. The STAGE – Interviews With Leaders, Legends and Influencers
5:00-5:45 p.m. SEMA Launch Pad: Entrepreneur Business Competition
Tuesday, Nov. 3
8:00-9:00 a.m. Racing and Performance Forum: Keeping Technology at the Forefront – Powered by ETTN
9:00-9:20 a.m. Brew Talks
10:00-10:45 a.m. Off-Road Builders Panel – Powered by TORA
12:00-12:30 p.m. Digital Marketing in 2021: What the Winners Are Doing
2:00-2:30 p.m. Turning Great Ideas Into Strategies to Produce Real Results
3:00-3:15 p.m. The STAGE – Interviews With Leaders, Legends and Influencers
Wednesday, Nov. 4
8:00-8:45 a.m. Online Car Sales: Keeping Accessories a Priority – Powered by PRO
9:00-9:20 a.m. Brew Talks
10:00-11:00 a.m. Off-Road 2.0: Performance Technology and Lifestyle Trends – Powered by TORA
12:00-12:30 p.m. The Customer Journey: From Digital Onlooker to Repeat Buyer
2:00-2:30 p.m. Classic Cars, Modern Markets
3:00-3:15 p.m. The STAGE – Interviews with Leaders, Legends and Influencers
Thursday, Nov. 5
8:00-8:45 p.m. Hot-Rod Builders Panel – Powered by HRIA
9:00-9:20 a.m. Brew Talks
10:00-10:30 a.m. How to Protect Your Brand's Online Reputation
12:00-12:30 p.m. Restomod and Hot-Rod Interior Fabrication – Incorporating Modern Electronics – Powered by HRIA and ARMO
2:00-2:30 p.m. Earning HER Business – Powered by SBN
3:00-3:15 p.m. The STAGE – Interviews With Leaders, Legends and Influencers
Friday, Nov. 6
8:00-8:45 a.m. Vehicle Technologies and Business Opportunities: What's Now, What's New and What's Next
9:00-9:20 a.m. Brew Talks
10:00-10:45 a.m. Automotive Restoration Builders Panel – Powered by ARMO
12:00-1:00 p.m. Emissions Compliance: What You Need to Know
2:00-2:30 p.m. How to Add Vehicle Wraps to Your Business – Powered by PRO
3:00-3:15 p.m. The STAGE – Interviews with Leaders, Legends and Influencers