News
SEMA Town Hall Visits Keystone Automotive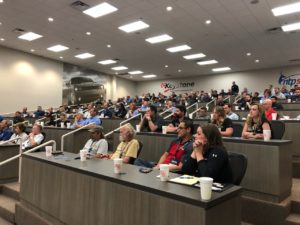 Keystone Automotive Operations Inc. hosted the latest SEMA Town Hall Meeting at its Flower Mound, Texas warehouse on May 7.
"We were very happy to have been asked to host the meeting this year," said Bill Rogers, president of Keystone Automotive Operations. "Having the chance to visit with so many of our customers and suppliers during the meeting was very beneficial, as was hearing from Tim Martin, Chris Kersting and the rest of the SEMA Team during the session.  It was apparent that SEMA is engaged in multiple fronts supporting the needs of its membership and the enthusiasts that rely on our products and services."
SEMA Town Hall Meetings serve as a networking function for the association's membership and platform for the SEMA Executive Committee to provide updates about SEMA's ongoing work to support the industry.
The event  in Flower Mound had more than 130 people in attendance. It included a display of 17 custom vehicles provided by local companies, a warehouse and facilities tour, dinner and social networking time. Additionally, the SEMA high school vehicle build program displayed a 2004 Jeep Wrangler X from RL Turner High School.
"The support the meeting got from local businesses was great," Rogers said. "Their participation helped make it a very successful event."