News
SEMA Supporting Five High School Vehicle Builds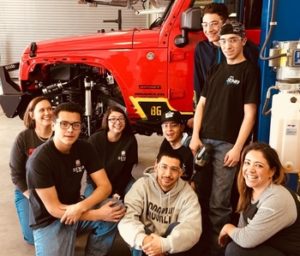 SEMA first partnered with Santa Fe Early College Opportunities (ECO) High School last year for a pilot vehicle build program. The pilot program was aimed at high school auto shops and offered real-world auto tech skills to students while promoting the interest and knowledge of young people in vehicle accessories and customization.
SEMA funded the project, including the '15 4WD Jeep Wrangler Unlimited, while ECO modified the Jeep and developed a written curriculum and a how-to guide intended to be used for similar projects in other secondary schools across the nation. The automotive specialty-equipment industry backed the build by donating parts for students to install on the Jeep.
The fully customized Jeep was auctioned through Bring A Trailer in June 2018 for a total of $56,175. Proceeds all allocated to fund a second vehicle build at the school.
SEMA is again partnering with Santa Fe ECO, along with four additional high schools in 2019 for a total of five vehicle builds. Partnering high schools include:
C.D. Hylton High School in Woodbridge, Virginia
Comstock High School in Kalamazoo, Michigan
R.L. Turner High School in Carrollton, Texas
Santa Fe Early College Opportunities High School in Santa Fe, New Mexico
Santa Ynez Valley Union High School in Santa Ynez, California
Students at those schools will customize Jeep Wranglers between the 1996-2006 model years with aftermarket products. All five customized vehicles will be auctioned at the end of the school year to fund the continued expansion of the program.
SEMA is seeking sponsors to support the ECO builds. Interested parties may fill out a sponsor interest form, or contact Katie Hurst, SEMA youth engagement programs manager, at katieh@sema.org.