News
SEMA Show Attendee Registration Now Open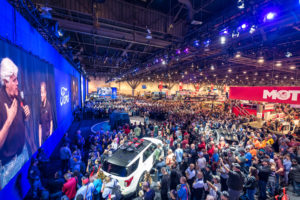 Registration for the 2020 SEMA Show, Tuesday-Friday, November 3–6, at the Las Vegas Convention Center in Las Vegas, is now open, SEMA has announced.
"The annual gathering featuring automotive innovation is set to take place in the fall at a time when analysts anticipate the marketplace will begin its path to recovery, positioning the SEMA Show to be vital in helping businesses move toward a successful 2021," the organization said in a statement announcing the opening of registration. "Show organizers are actively working with leading experts to develop standards and protocols that will create an optimal environment to conduct business while emphasizing the health and wellbeing of those at the event."
The SEMA Show's annual booth space selection process began earlier this month with more than 1,800 exhibiting companies participating. The Show is comprised of 12 individual industry sectors and affords buyers the opportunity to find products to build their core business or venture into new areas of growth with complimentary product and service offerings. Education, new products and trend spotting are the typical draws at the event and this year will continue based on the support the industry has shown thus far.
"We know the SEMA Show this year will be fundamental to helping businesses connect and move forward. We take that role very seriously, but not at the expense of the health and safety of the industry," said Tom Gattuso, SEMA vice president of events. "We're confident that we will build a suitable environment that gives people certainty that they are not at risk to congregate, yet still allows us to leverage the Show's position on the calendar to help the industry recover more quickly."