News
SEMA Reveals Hall of Fame Inductees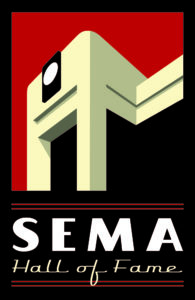 Rich Barsamian, Jack Chisenhall, John Gaines and Joe St.Lawrence will receive the specialty-equipment industry's highest honor as they are set to become the newest members of the SEMA Hall of Fame. The four are the latest representatives of an esteemed group of industry icons who have influenced and inspired the $44.6 billion automotive specialty-equipment industry.
Rich Barsamian has been actively volunteering and helping to improve our industry since he joined the Young Executives Network (YEN) in 1995. He has helped bring many educational programs to SEMA members and worked tirelessly as an ambassador to help other SEMA members. Over the years he has earned numerous recognitions for his continued work in our industry, including SEMA Person of the Year in 2014, and exemplifies the SEMA Hall of Fame criteria with regard to professionalism, dignity, integrity, stature and growth of the industry.
Jack Chisenhall is credited with making climate control systems accessible by founding the San Antonio company Vintage Air, and also helped create what is now the Hot Rod Industry Alliance (HRIA), among other innovations and contributions. His work made enthusiast cars more comfortable, easier to drive and that meant more miles logged behind the wheel, more money spent on modifications and more time on the road wrenching, driving, building and enjoying these cars. It was a cultural shift and a game changer.
John Gaines was an early pioneer in the automotive aftermarket warehouse distribution. His company, G&M Performance Parts was one of the first warehouse distributors in the country for the automotive aftermarket, and his distributorship was one of the first in the country to utilize a fleet of vehicles to distribute product direct to the local speed shops, truck accessory stores, car dealerships, machine shops, creating a much quicker and more streamlined process from manufacturer to end user. Gaines is credited with forward thinking early on that helped many manufacturers grow to where they are today.
Joe St.Lawrence started RTM, the industry's first production company for auto how-to shows in the mid-1980s. He created PowerBlock, television's first two-hour auto theme-block featuring how-to shows that introduced SEMA member products to million of viewers. His shows sparked parts buying on Monday, and gave DYIers the confidence to bolt on aftermarket parts and customize their vehicles. He introduced broad audiences to cool cars and helped change the image of the backyard mechanic into a tool-wielding expert.
For additional information about the SEMA Hall of Fame, click here.