News
SEMA Recaps 2019 High School Build Program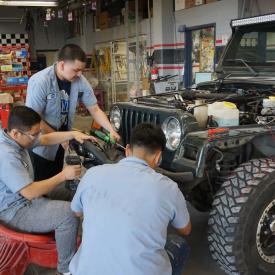 The five fully customized Jeep Wrangler TJ's built by high school students as part of the SEMA High School Vehicle Build Program were up for auction in an event called 'SEMA Week of Customs,' and successfully raised money for the program.
The finished builds were auctioned through program partner Bring a Trailer, an online auction marketplace for buying and selling special vehicles, which resulted in a total of $127,000 to benefit high school auto shop programs. Bring a Trailer also generously donated their auction fee to the program bringing the grand total to $133,350! Proceeds from the auctions are being reinvested back into the SEMA program to fund another round of builds for the 5 participating schools and will go towards the expansion of the program to further its reach to 5 new schools for a total of 10 builds in the 2019-2020 school year.
"We at Bring a Trailer are very excited to partner again with SEMA to auction these special custom Jeeps," said Randy Nonnenberg, BaT Co-founder & CEO. "Young enthusiasts are key to the future of the automotive hobby and we applaud SEMA for furthering their investment in this program and these students. We are very happy to again be donating our entire 5% auction fees on these Jeeps to the same great cause."
This program partnered with C.D. Hylton High School, Comstock High School, R.L. Turner High School, Santa Fe ECO and Santa Ynez Valley Union High School to complete the semester-long build projects. Thirty-three automotive aftermarket companies sponsored these builds by contributing parts and, when paired with the craftsmanship and vision of the students, these Jeeps are truly one of a kind.
"The industry has really supported this project," said Zane Clark, SEMA Senior Director of Education. "Their generosity has elevated the build beyond our expectations and created a once-in-a-lifetime learning experience for the students."