News
SEMA Education Adds 'Classic Cars, Modern Markets' Webinar
SEMA Education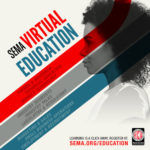 has added a new virtual session to its event calendar, the organization announced. Titled "Classic Cars, Modern Markets," the educational webinar will discuss the $890 million classic car and truck market, and how you may be able to capitalize on this market. The session is scheduled for Feb. 16.
The event hosts will present new research that shows what types of parts are bought for classic vehicles, what the vehicles are primarily used for and the behaviors of the vehicle owners, SEMA Education said.
Click here to register.