News
SEMA Cares' 1967 Camaro to Be Auctioned for Charity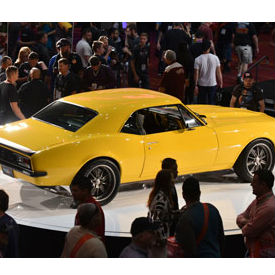 For nearly a decade, WD-40 and SEMA Cares have worked together to bring vehicles to auction for the benefit of SEMA Cares' charitable partner organizations. On Jan. 16, a '67 Camaro will be auctioned to benefit Childhelp at the Barrett-Jackson Auction in Scottsdale, Arizona. Childhelp is an organization dedicated to closing the cycle of child abuse in the United States by helping victims and those at risk.
SEMA staff managed the project in-house, working on it in the SEMA Garage for over a year. The goal was to give the car a contemporary driving experience and a unique look while preserving its authentic heritage. The building process began with the decision to install an LS3 crate engine donated by GM Performance. Luis Morales, vehicle product data specialist at the SEMA Garage, was the project lead.
"You can't just drop that engine into a stock '67 Camaro," he said. "It won't work. The chassis is not built for that kind of power and torque. So we rebuilt the entire chassis, front to back. The entire frame of the car is aftermarket-"all to fit the engine and transmission."
From that starting point, the Garage team worked to preserve and enhance the just-plain-fun driving experience that is in the Camaro's character. SEMA-member companies did not hesitate to participate and were generous. The car now features a Vortech supercharger, a K&N intake, a Rotofab carbon-fiber plenum cover, Fragola Performance fuel fittings, Magnaflow mufflers, and an Art Morrison Enterprises frame, to name but a few of the contributed parts.
Kindigit Designs made a custom rear spoiler as well as the flush, spoon-style door handles. Roadwire and Distinctive Industries added the custom leather seats and rails. Retailers such as Camaro Central and Classic Industries got involved too, donating trim pieces, body panels, brake pedals and more. The paint and bodywork were done by LGE-CTS, working with PPG paint. Virtually everything on the car was donated.
"We wanted to build a street car with performance you could take to the track and looks you could take to a show," Morales said. "It's a full-frame car to handle the torque and power. You basically have [the engine that] comes in a 2010 and later Camaro SS, and it's supercharged. We put sound deadening throughout the interior. And then there's the fact that it is running on a C6 Corvette suspension. You have a very classic look to the car, with the comfort and power of a new car.
"It's not just somebody seeking sponsorship, where they get to keep the car and have fun with it. This has more purpose to it. We build it, showcase it and auction it, and all of it goes to charity."