News
SEMA Announces April Virtual Education Schedule
SEMA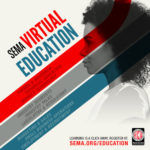 has added several new programs to its upcoming virtual education schedule for April, the organization announced.
Topics scheduled to be covered include the current vehicle landscape, shifts in new vehicle sales and trends, common causes of tire balancing process errors and more.
Click here to see the full schedule and to register for the virtual events.