News
SEMA Adds to Virtual Education Schedule
SEMA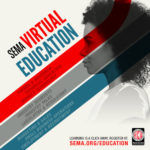 has added several new programs to its upcoming virtual education schedule, the organization announced.
Topics scheduled to be covered include autonomous and alternative-fuel vehicles, marketing and sales tips to improve sales, turning ideas into strategies and more.
Click here to see the full March virtual education schedule and to register for events.