News
'Search for a Champion' Rewards Grand Prize Winners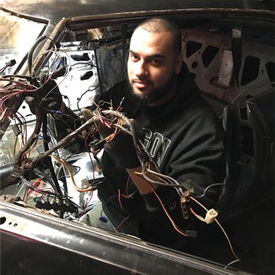 Mason Ludwig, a 15-year-old rising star in Late Model class racing, and Jon Corral, a radio producer and hot rod restoration enthusiast, are the grand prize winners in the 2018 Search for a Champion contest from Champion auto parts.
"Mason and Jon are perfect examples of what this contest is all about: Celebrating and rewarding the passion that drives the North American car culture and do-it-yourself community," said Dana Bubonovich, manager of social media and digital promotions for Federal-Mogul Motorparts. "Enthusiasts really responded to their stories and hopes of becoming members of #TeamChampion."
Ludwig, a ninth-grade student from North Branch, Michigan, will receive the $50,000 grand prize in the Search for a Champion on the track category. Corral, of Washougal, Washington, won the $5,000 grand prize in the new in the Garage category for do-it-yourselfers.
"This was my third year in the contest and I just kept trying to improve my marketing and social media posts to attract as many votes as possible," said Ludwig, who began his racing career in a go-kart at the age of seven.
Ludwig said he will use the grand prize sponsorship to travel to additional tracks in 2018 and increase the team's support of local charities.
"Winning the grand prize means the world to me because it will help advance my career and allow us to help others," he said. "It's awesome to be able to work with the people at Federal-Mogul Motorparts and Champion."
Corral-"who uses the name Class1c and produces a show called Friendly Fire Radio streamed through the Dash Radio digital platform-will apply the Champion prize to the restoration and enhancement of a 1972 Chevrolet Black Diamond Chevelle that will be displayed at this year's SEMA Show in Las Vegas. The car is being built in Corral's garage.
"This is an unbelievable opportunity-my first SEMA build and maybe a path to someday owning a hot rod restoration business," Corral said. "One of the coolest things about this contest has been the feedback I've received from other do-it-yourselfers. There have been so many people who have told me, 'You represent me – I have a daily job but try to find the time to do what you're doing.'"
Champion established the contest in 2012 to connect with a new generation of grassroots racers and other enthusiasts. Champion, over the first seven years of the contest, has awarded nearly $900,000 to grassroots racers, do-it-yourselfers and maintenance enthusiasts who have best demonstrated their passion for engine-driven performance.
More than 700 participants competed for sponsorships, advancing through the contest's two rounds, based on votes received at SearchForAChampion.com. A record of nearly 190,000 votes were counted.
In addition to the two grand prizes, Champion is awarding $5,000 to each of 10 runners-up in the on the track category and $500 to each of 10 in the garage finalists. Each of 30 finalists in the on the track category received $500 Champion sponsorships.
The 10 runners-up in the on the track category are:
Chris Fairchild, Paw Paw, Illinois
Gordy Gundaker, St. Charles, Missouri
Treyten Lapcevich, Grimsby, Ontario, Canada
Leighton Lillie, Lewiston, Idaho
Steven Macklyn, Bountiful, Utah
Makala Marks, Indianapolis, Indiana
Michael Milesi, Malibu, California
Jake Piel, St. Louis
Amanda West, Colchester, Connecticut
Trent Young, Crofton, Kentucky
For additional information, visit searchforachampion.com. To learn more about the growing range of Champion auto parts products, visit ChampionAutoParts.com.