News
SCORE Remembers Champion Racer Who Died Friday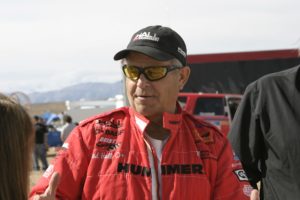 Editor's Note: SCORE distributed this memorial in a newsletter dedicated to Rod Hall, who passed away on Friday
Whenever the all-time greatest racers in the history of desert racing are discussed, near the top of the list is always the venerable Rod Hall who SCORE International remembers fondly as a 'champion of champions' in the history of the unique form of motorsports.
The SCORE family is filled with wonderful memories of a great man who will be remembered as everyone's best friend-Rod Hall, a champion desert racer and an even greater ambassador for the sport for nearly six decades.
Hall passed away on Friday (June 14) after a long battle with PSP (Progressive Supranuclear Palsy-a rare brain disorder with similar symptoms as Parkinson's disease) for the last few years.
Hall was at home with his wife Donna and their family in Reno, Nev. on Friday when he died. Rod was 81 years old and his family reported that he passed away peacefully in his sleep.
Some Score Stats
Originally from Hemet, California, Hall was a long-time resident of Reno, Nevada and as not only one of the original desert racers but one of the greatest champions the sport has ever seen.
Hall is the only person who raced in every one of the first 50 SCORE Baja 1000 races ending his career with an unmatchable SCORE-record 25 class wins, earning his final one at the 50th anniversary of the world's greatest desert race in 2017.
In his long and storied SCORE racing career Hall won 14 SCORE season point championships including the 1974 overall point championship as well.
Besides his 25 class wins in the SCORE Baja 1000 (including the overall victory in 1969 with Larry Minor), the venerable Hall also had 18 class wins in the SCORE Baja 500, four in the SCORE San Felipe 250, and two each in the SCORE Desert Challenge and in the SCORE Las Vegas Terrible's Primm 300. He also had 10 class wins in the Mint 400, 10 more in the old SCORE Parker 400 and 12 in the old SCORE Fireworks 250.
Hall was a 2005 inductee into the Off-Road Motorsports Hall of Fame. He also served in many capacities for ORMHOF to help keep the organization moving forward.
Teammate Norman
"As Rod's teammate in 1999 and 2000, he was a good friend and his mentoring was the reason I became good enough to win races," remembered long-time friend and SCORE Trophy Truck racing champion Roger Norman, who also has a home in Reno. "Rod was not only one of the first true desert racers, his longevity in the sport was unmatched and his life touched so many people. I feel very fortunate to have been one of those people to have been close to him and his wonderful family."
Fish Recalls
Hall of Famer Sal Fish, who led SCORE from 1974 through 2012, remembers Rod Hall as well. "Rod Hall was one of the founding fathers of desert racing and certainly a major pillar in the history of SCORE desert racing. Rod was one of the elite racers for over 40 years but he always maintained his humble personality and was as approachable, as friendly and as open with a handshake and a friendly smile as the first time I met him when I did a little racing back in 1969.
"He was a tremendous spokesperson for our sport and truly the first factory-backed racer in SCORE history. And his tenure as a factory driver lasted until his last win in 2017, the longest for anyone in our sport. He will be missed by all of us who have ever stepped foot in the desert."
More Racing History
In 1975, prominent vehicle builder Bill Stroppe entered into an agreement with Dodge to manage their off-road program. Hall, along with long-time co-rider and friend, Jim Fricker, was assigned to the production 4WD Dodge.
The team had moderate success during the first year, but in 1977, Hall began a winning streak that lasted into the next decade driving the Class 4 Dodge to an unbroken string of 37 consecutive SCORE and HDRA victories, a record which likely will remain forever.
In 1982 Hall gained international recognition when he finished second in the Marlboro Safari Rally, in Kenya, Africa. Two years later he won the marathon 12,500-mile Repco Reliability Trials across Australia and returned in 1985 to win the Australian Production 4WD Class Championship.
In 1993, Hall switched from Dodge to HUMMER after some preliminary testing in Moab, Utah convinced him that the HUMMER is indeed the 'Ultimate Four-Wheel Drive' vehicle. In their first race, Hall and his youngest son Chad, finished first and second in the Stock Full production Class at the SCORE Baja 1000, beating the competition not by minutes, but by hours.
In 1996, Rod and Chad organized the first all-American team to ever finish the torturous 4700-mile Dakar Rally, finishing fourth and.
The Mentor
Between races Hall was extremely active as a spokesperson for the BFGoodrich Tires Co. as well as using his many talents as a mentor and instructor for numerous off-road driving seminars.
Rod Hall will long be remembered for his many accomplishments as a racer. But to his family and his many, many friends, he will be cherished as a truly loving, kind and friendly person who always made time to say howdy to everyone he met.
Final Farewell
"Especially to his wife Donna, his sons Josh and Chad, and his granddaughter Shelby and the rest of the loving Hall family, please know how much we will miss 'Papa' and how humbled and honored we have been to share this stage called life with him," commented Jim Ryan, SCORE sales and marketing director.
Long-time SCORE Media Operations Director Dominic Clark summarized, "While we will miss his smile, his friendship and his ceaseless anecdotes, we have comfort in knowing that his time of pain and suffering has past. Thanks for the everlasting memories Rodney Hall, a true champion of champions!"