News
Schwartz Performance President Sets 81 Land Speed Records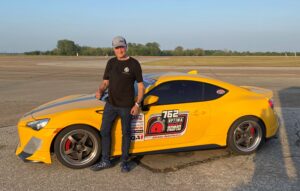 Schwartz Performance President Jeff Schwartz set 81 new land speed records in the production motorcycle and modern performance car categories during the East Coast Timing Association (ECTA) event in held in Blytheville, Arkansas, earlier this month, according to Schwartz Performance.
Combined with last fall's records, Schwartz now has 146 land speed records with the ECTA, the company said.
During the ECTA meet, Schwartz made 25 passes in his 2015 Toyota Racing Development Scion FRS to claim records in 25 classes for half-mile, 1-mile and 2-km distances, Schwartz said. Fastest speeds were over 140 mph in the half-mile, over 164 mph in the 1-mile and 172.051 mph in the 2-km categories.
Switching to two wheels, Schwartz achieved six more records on a BMW M1000RR including passes over 166 mph in the half-mile, 177 mph in the 1-mile and 180.650 mph in the 2-km categories. Schwartz also earned the Fastest Toyota and Ducati titles for the weekend with 172-mph and 179-mph passes.