News
SCCA Announces #SupportMotorsport Campaign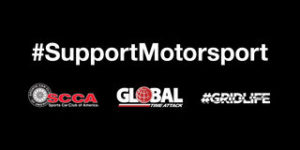 The Sports Car Club of America (SCCA), in partnership with Global Time Attack and Gridlife, has launched the #SupportMotorsport campaign, which aims to support the hobby, venues and organizations that make up the racing industry during the COVID-19 pandemic.
The goal of the initiative, the SCCA says, is to ensure that motorsport venues are protected and preserved.
The group offered up three ways to support both the initiative and the industry's venues and organizations:
Enter Events and Buy Tickets
Motorsports is historically a space where people wait before making a purchase, perhaps to see what the weather will be or to ensure there are no conflicting plans. Right now, however, an entry or a ticket sale is a vote for an event to actually happen and gives tracks, organizers and sanctioning bodies the confidence needed to keep events on the schedule and to keep tracks rented.
Get Gear
Whether it is a t-shirt from your favorite track, a hat from your favorite sanctioning body or poster from your favorite team, merchandise purchases are a great way to show support for tracks and those who rent tracks. And, please remember, many states have specified that racetracks are not essential services, so shipping times will likely be delayed.
Join Clubs
Many motorsports participants enjoy and appreciate the work of clubs and organizations, both locally and nationally, but have not felt the call to join. Joining the local autocross group that you run with a time or two a year, or the national organizations that produce the rules and standards that events are run by helps these clubs plan events, make deposits with tracks and keep staff and volunteers supported and engaged in creating your next motorsport experience.